The brand introduces the world to their latest dish with their "Sizzling Streaks" activation and a TV spot that revives an early aughts classic
Fast-casual restaurant brand Panda Express wants to help fans discover their sizzle with a new national campaign created by independent creative and strategic advertising agency The Many that—through a combination of rock-power ballad-driven TV spots and an ambitious social activation tied in to March's ubiquitous college basketball tournament—celebrates the power of experiencing their new limited-time dish, Sizzling Shrimp, for the first time.
To take full advantage of the March introduction of the new dish, Panda Express will tie in the hottest cultural moment of the month with a unique "Sizzling Streaks" promotion. Basketball and American Chinese food fans who tune in to Panda Express's social during the college basketball tournament games will see a real-time flash promotion whenever a team goes on a 10-0 scoring run, or "Sizzling Streak," allowing fans to score a free order of the brand-new Sizzling Shrimp with their order. In creating this promotion, The Many team set up a game-watch API alert whenever there is a 10-0 run, and also tapped a college professor who specializes in sports statistics to hone the right scoring opportunity that would be both exciting and likely to happen throughout the course of the tournament.
The Many also paired basketball social influencers Crissa Jackson, Kris London and Tristan Jass alongside current college NCAA athletes Jaylen Clark and Boogie Ellis to spread the word on the "Sizzling Streaks" promotion. This is the first time Panda Express has tapped into college-athlete partnerships under the recent NCAA rule allowing players to be compensated for the commercial use of their name, image and likeness (NIL).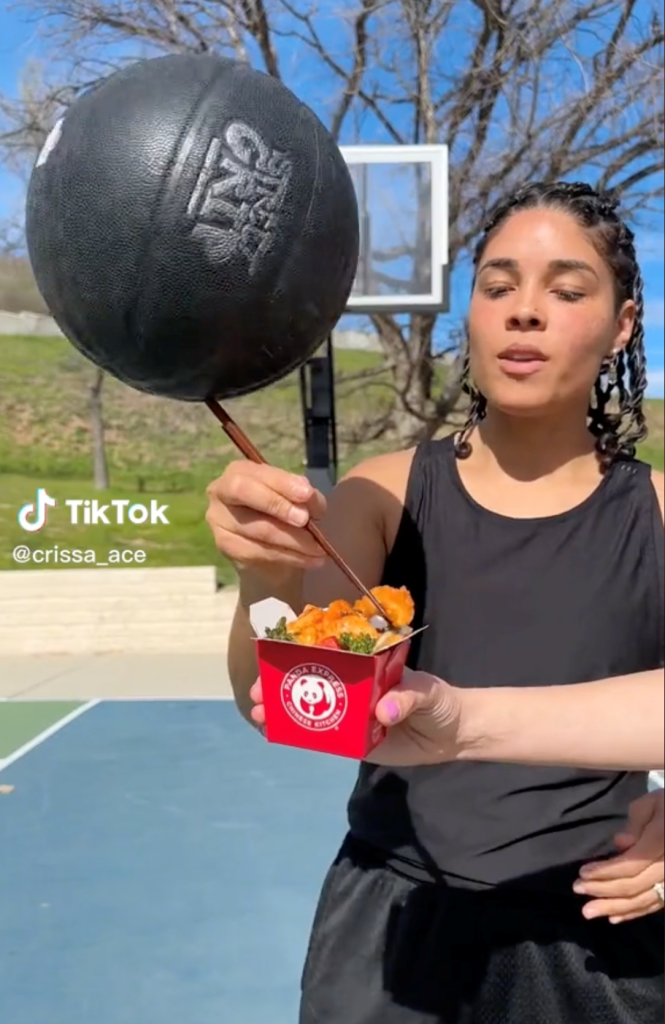 "The launch of Sizzling Shrimp coinciding with the college basketball tournament is too perfect of an opportunity to pass up," said Fabiola del Rio, vice president, Integrated Marketing Communications at Panda Express. "Not only is there the conceptual angle of tying a dish with "sizzling" in the name to a sport known for hot streaks and heat checks, but we're also we're attaching ourselves to really joyful, memorable moments during one of the most talked-about sporting events in pop culture by linking our promotion to these 10-0 scoring runs."
This latest :30 spot from the brand's agency of record once again serves up Panda Express's secret ingredient for bridging cultural divides—music—with the early aughts smash hit "I Believe In A Thing Called Love" from British rock band The Darkness setting the mood for this sizzling new campaign. When the guitar fires up, so does the roaring-hot wok, as the chef hits the downbeat to catapult into the song while juicy shrimp and fresh vegetables tossed with a tangy sauce launch into the air to surround entranced fans and steam up their glasses with sweet, savory, spicy deliciousness.
This marks the sixth time that Panda Express has used iconic music tracks in its commercials to bring its "American Chinese" theme to life, following previous English-to-Mandarin lyrical mashups of songs including Johnny Cash's "Ring of Fire," Billy Ray Cyrus' "Achy Breaky Heart," Outkast's "The Way You Move," The Drifters' "This Magic Moment," and The Zombies' "Time of the Season."
The overall Sizzling Shrimp campaign, including 30-second and 15-second versions of the spot plus out-of-home and social creative executions began March 3 and will run through April on broadcast, national and digital TV. The "Sizzling Streak" social activation will be live during the college basketball tournament games from March 16 through April 3 on Panda Express's Instagram, with promotion across YouTube, Twitter and TikTok.
Source: The Many