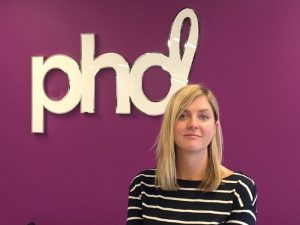 Omnicom Media Group's PHD has appointed Hannah Savage as Strategy Director for the agency's Manchester office following a period of significant growth. 
Savage – who has ten years' experience in online and offline media strategy and emerging technology development – joins the agency from Havas Canada in Toronto, where she was formerly VP of Communications and Digital Marketing Strategy. She has worked with a wide range of brands throughout her career, including the BBC, MoneySupermarket, Expedia, Nando's and American Express.
"Hannah's solid background in media planning and hands-on experience delivering integrated strategies for challenger brands and blue-chip clients make her a perfect fit for our rapidly expanding team," said Jon Kershaw, Managing Director of PHD Manchester. "With our agency doubling in size over the past 12 months, her focused leadership will allow us to continue providing the brilliant media thinking that PHD has become known for."
In her new role, Savage will be responsible for leading online and offline strategy across PHD Manchester's entire client portfolio, including several recent new business wins, as well as championing PHD's proprietary Rhythms approach, which leverages data to helps brands reveal key opportunities to connect with their core audiences.
"PHD's culture and investment in intelligent, planning-based strategy was a huge draw for me," said Savage. "Most brands are missing out on key opportunities to engage with audiences because of a disconnect between strategy and the data available. By following the data, we're able to create authentic connections between brands and their consumers."
Source: Omnicom Media Group