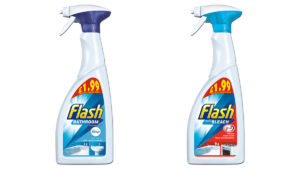 Flash, one of the market-leading homecare brand from Procter & Gamble (P&G), has reduced the price of its Flash Task Sprays price marked pack (PMP) from £2.25 to £1.99.
The decision was taken to reduce the price mark on this best-selling SKU following feedback from convenience retailers that they wanted to drive customer loyalty by offering good value for money.
Rav Garcha of Nisa Broadway, Birmingham says: "£2 seems to be the magic number, so allowing us to sell Flash at a price consistently less than that will have a big impact on sales. It's great that P&G is listening to what we – and our customers – want and creating pricing strategies that work for all involved."
The new £1.99 PMP is available to retailers across the UK now.
Source: Procter & Gamble