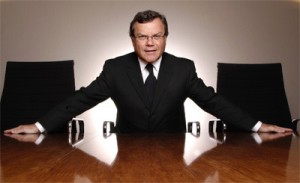 Sir Martin Sorrell has poured cold water on the so-called "merger of equals" between rival agencies Omnicom and Publicis Groupe, which was announced on July 28, questioning the value to the former's shareholders.
Speaking on the 'Today' programme on BBC Radio 4, Sorrell questioned the value to Omnicom shareholders, who will receive 50 per cent equity in the $22.7 billion turnover combined entity, given the respective scale of the two companies.
The WPP chief executive said: "Why Omnicom shareholders should approve a nil-premium merger I really don't know. Omnicom are significantly better [bigger] and all they end up with is 50 per cent of the company.
"It looks as though [it will have a] French name, Amsterdam quote and list, French headquarters, the chairman of the company will ultimately be French. It's a wonderful deal for [Publicis Groupe chief executive] Maurice Lévy and chapeau to Maurice as they say in France."
Sorrell described the merger as "a very big, bold, very brave and surprising move" and warned of a potential backlash from clients, who he claimed had not been properly consulted prior to the announcement of the deal.
Sorrell said: "This [announcement] was rushed out over the weekend and I think they failed really to engage with the clients and explain it, and we're picking up chatter already that some clients were not properly consulted, and there are precedents in our industry where it didn't turn out pretty as a result."
He added that the deal was not in line with either company's previous strategy and described the co-chief executive structure, with Levy and his Omnicom counterpart John Wren running the combined business for the first 30 months, as "messy".
Sorrell said: "It's not in line with Publicis' strategy because it doesn't increase their fast-growing markets and it doesn't increase their digital penetration.
"Omnicom have always said they didn't want to get involved in the scrum for digital companies and fast-growing market companies that Publicis have pursued and now they've gone and done one massive roll-up via this merger.
"[There are] a lot of imponderables [and] a lot of cultural issues – the last merger of equals that we knew about was Daimler-Chrysler of course and that was unwound. Co-CEO structures traditionally don't work and are difficult to put in."
Commenting on the scale of the combined company, which will overtake WPP as the world's largest marketing services company, Sorrell said that the only area where there would be a "significant difference" was in America.
He added that WPP would still be bigger in Asia and Europe, with no significant change in Latin America, Africa and the Middle East.
Sorrell said the codename for the deal was "purple for Publicis and orange for Omnicom", adding: "when you Google that mixture you get muddy brown or grey – so I don't know whether that's a portent of the future as to what's going to happen with the two companies."