PVH Corp. announced a new campaign for its Van Heusen brand, which includes a partnership with UFC, the world's premier mixed martial arts organisation. The partnership, which begins July 31, establishes Van Heusen as UFC's first-ever "Official Men's Dress Furnishings Provider," bringing its innovative and flexible menswear choices to the brand's worldwide fan base.
To kick off the campaign and partnership, UFC bantamweight champion TJ Dillashaw and UFC welterweight contender Stephen Thompson are starring in a new commercial highlighting the innovative Van Heusen Flex collection of men's shirts and pants, which incorporates stretch features to give men a corporate business-like look without sacrificing the range of motion or comfort found in casual clothing.
The commercial features Dillashaw and Thompson kicking, punching and grappling their way through an office-spat-turned-MMA-match while dressed in shirts and pants from the Van Heusen Flex Collection, actively demonstrating the collection's All-Over Stretch, Flex Collar and Flex waistband attributes. It will premiere during UFC 227: Dillashaw vs. Garbrandt 2 this Saturday, August 4 at the Staples Center in Los Angeles.
This campaign – which will run through the fall and holiday seasons – marks the most robust 360-degree marketing effort to-date for the Van Heusen brand. The commercial and campaign creative will be placed across national and local cable television, including NFL Network, Comedy Central, FOX Sports 1 and TruTV; programmatic and Pay-Per-View shows; video on-demand on Hulu, DirecTV Now, Sling TV and Roku; digital advertising spanning news and sports websites like Bleacher/Report and ESPN; and display ads on select retailer sites.
The campaign also features in-store and in-gym signage at various retailers and Life Time athletic resort locations that will include UFC's logo along with images of Dillashaw and Thompson.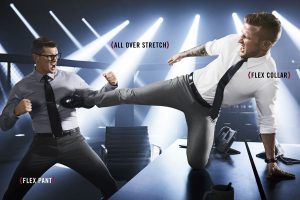 "Van Heusen has a history of firsts, and our partnership with UFC adds to that impressive list," said Ken Duane, PVH's Chief Executive Officer, Heritage Brands. "We were first-to-market with our innovative Flex Collar and are eager to highlight our Flex collection in an authentic, surprising, and first-of-its-kind way: becoming UFC's first Official Men's Dress Furnishings Provider. Tapping into the burgeoning popularity of MMA, as well as two of its premier athletes in TJ Dillashaw and Stephen Thompson, was hugely important to us as we look to reach the next generation of Van Heusen men."
As a part of the new UFC partnership, Van Heusen branding will be featured inside UFC's world-famous Octagon at UFC 227 and the brand will take over UFC.com's homepage this Saturday. The commercial also will be featured as pre-roll on UFC's YouTube channel, andVan Heusen creative featuring Dillashaw and Thompson will be incorporated across UFC's social media channels.
"We're thrilled to announce our new partnership with Van Heusen, one of the world's most recognisable brands," UFC Senior Vice President, Global Partnerships Paul Asencio said. "The Van Heusen Flex Collection is perfect business attire for UFC athletes outside of the Octagon because it allows them to wear stylish and flexible business apparel without compromising their comfort, individual style or look."
The Van Heusen Flex Collection includes dress shirts, pants, suit separates and sport shirts, which are available from $50– $220. The collection is designed for the next generation of ambitious Van Heusen men who are seeking solutions-oriented work apparel. The Van Heusen Flex Collection is available at major retailers including Kohl's, JCPenney, Macy's and on VanHeusen.com.
Source: UFC