British brand Reiss announces a partnership with London's world-famous advertising space Piccadilly Lights to launch its Autumn/Winter '19 advertising campaign, following very strong sales for the first half of the year.
For the 26 weeks to 3 August 2019, total group sales grew by +23.7% to £102.9m (2018: 83.2m) and like for like sales in constant currency grew by +25.6%.
Christos Angelides, Reiss' CEO, commented: "I am very pleased with Reiss's first half performance and encouraged by the promising start we have made to the Autumn/Winter '19 season. Our customers are clearly responding to the investment we have made in people, product, brand and infrastructure. I am also excited at the opportunity to further raise awareness of the Reiss brand by launching an Autumn/Winter '19 campaign across a series of marketing initiatives, some of which are a first for the brand, starting in the heart of London with Piccadilly Lights."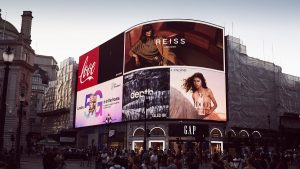 The advertising deal with out-of-home media company Ocean Outdoor, sees the AW19 campaign set to launch on Piccadilly Lights across a four-week period starting from 26th August 2019.
The campaign itself celebrates the brand's London roots, featuring several iconic locations across the city including: The Barbican, Southbank, Old Marylebone Town Hall and the British Transport Museum.
When discussing the inspiration behind the campaign, Creative Director, James Spreckley, said: "AW19 evokes a cinematic, euphoric view of London's creativity, art and culture. A celebration of the city's unexpected backdrops, we wanted the campaign to showcase portraits of people in their truest, most confident forms. We call it, 'beauty untamed'."
The Piccadilly Lights are marketed and operated by Ocean Outdoor on behalf of Landsec.
Rosalyn Mackway, Ocean's business director in Brand Partnerships, said: "The Piccadilly Lights are an integral part of the London fashion scene and British led design. This campaign by Reiss brings together a much photographed icon with other city landmarks to celebrate the cultural diversity, flair and optimist confidence of London. A truly Instagrammable campaign."
Attracting over 100 million people every year, Piccadilly Lights will allow Reiss to showcase its new campaign on a vast platform while engaging with a mass audience in the heart of London's shopping and entertainment district. The AW19 collection launched online and in-stores worldwide on 21st August 2019.
Source: Ocean Outdoor