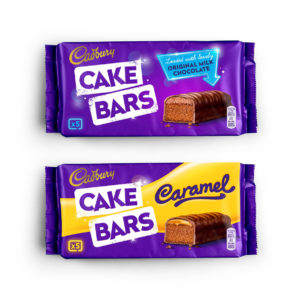 From the partnership that created Amaze Bites and reasserted Mini Rolls as a firm lunchbox favourite, comes a brand refresh for Cadbury Cake Bars that's 'loaded with lovely'.
Following commercial successes with key Cadbury cake ranges, Premier Foods turned to Robot Food once again to help bring the core brand proposition of 'joy' to life in the popular range of Cadbury Cake Bars. The challenge was set to reposition and energise the Cake Bars brand, re-establishing it as a more 'grown-up' treat.
Robot Food set about creating a proud identity that would not only allow Cake Bars to stand alone, but shift the perception of them as a generic family purchase and offer clearer range segmentation in Cadbury's cake portfolio.
The new designs introduce a more defined, better balanced pack hierarchy to encourage stronger brand recognition. Both the Cake Bars sub-brand and its variants are championed on front of pack and framed by Cadbury's distinct core purple colour. Key light photography and subtle flashes of glowing neon bring a grown up glamour to the product that suggests its new occasion, while the strapline "Loaded with Lovely" speaks to a more mature audience in a tone of voice that is distinctly more joyful.
The new branding for Cadbury Cake Bars' two core SKUs of Milk Chocolate and 'Cadbury Caramel' is set to hit shelves later this month, with more exciting flavours coming soon.
Mike Johns, Design Director at Robot Food, said, "For us it was about creating an ownable identity that would set Cake Bars apart, but that struck a good balance between the core brand and its variants. Things like the new cake bar-shaped lock up is very brand proud and shouts loudly from shelves, but simple enough in its execution to work alongside other key assets on pack."
Jo Agnew, Brand Director of Mr Kipling, Cadbury and Lyons, said, "Robot Food have done it again. Cake Bars not only look more confident, but the new branding works hard to set them apart from others in our portfolio, while still retaining a look and feel that is undeniably Cadbury. Bold, clear and full of joy – spot on."
Source: Robot Food