The Royal Society for the Protection of Birds (RSPB) has launched a new campaign for 2019's Big Garden Birdwatch (BGBW) – the world's largest wildlife survey. Showing that birdwatching is for everyone, the wildlife charity breaks birdwatching clichés with a new multi-channel campaign and TVC. Creative agency Cherry Tiger developed the creative campaign and Omni Productions were brought on board to produce the TVC and content suite for RSPB's 40th annual event.
April Sach of the RSPB says, "The Big Garden Birdwatch is the RSPB's biggest audience participation event and the charity's largest lead generation campaign. Celebrating it's 40th anniversary, it was the perfect opportunity to celebrate our Big Garden Birdwatchers and engage new audiences with this citizen science activity. The RSPB appointed Cherry Tiger and Omni Productions to devise a broad suite of content with an integrated multi-channel concept."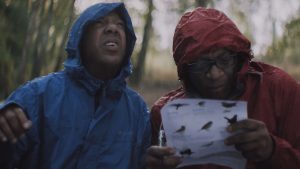 Informed by four decades of audience insight and data, this year's campaign aims to widen the Big Garden Birdwatch's appeal to the British public. Both broadcast media, targeted at new audiences, and other activity that engaged the RSPB's membership base was used to achieve this. The TVC was delivered through a combination of day and peak time TV slots and contextual media buying relevant to target audience interests. The wider campaign rolled out across digital, social, print, POS and email.
Louise Spencer at Cherry Tiger says: "There's a perception that Big Garden Birdwatch appeals to a particular demographic. The reality is that it's enjoyed by a whole range of people – it's broad and appeals to young, old and families alike. It's open to people in cities and countryside with no barriers to anyone from any background. We wanted to celebrate the quirky, idiosyncratic stories of real Big Garden Birdwatchers to show this is an event for everyone."
Bristol-based Omni Productions worked closely with the RSPB and Cherry Tiger to ensure the creative requirements were collated to meet the broad scope of content needs. Cherry Tiger wanted to convey excitement and the broad community of Big Garden Birdwatchers by casting real- life participants, which was brilliantly realized through Omni Productions.
Darren Finch at Omni Productions comments: "Involving real people was central to the ad. We street-cast people who already showed their enthusiasm for BGBW through social media. We put in the hours and found 75 candidates for the cast that covered a huge variety of ages, backgrounds, activities and locations. To narrow them down, we asked them to send a video showing us how they Big Garden Bird watched, from there we selected our favourite members whose passion really shone through. Working with people who aren't trained actors can be a challenge, but the passionate cast delivered on all accounts!"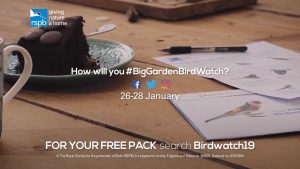 Director, Paul Butterworth adds: "My main objective was to recreate believable moments featuring real people. I didn't want the piece to feel 'performed' so although we were recreating existing moments, the acting, art direction and cinematography had to feel completely uncontrived, as if we were creating environments for the scenes to unfold in."
Alongside the TVC campaign. Omni Productions also developed content for digital and social channels. Directly following the main shoot, the streetcast birdwatchers were whisked away for five-minute interviews which would uncover the story of how they Big Garden Birdwatch.
Dan James at Cherry Tiger says: "Within the limits of 30, 40 and 60 second ads designed to convey diversity, it's hard to get deeply into any one single person's story – you can only give a taste. Happily, the longer formats and fast-moving nature of social media make it the perfect medium to tell deeper human stories. These simple interviews uncovered some lovely stories like Ste recording his love of nature all the way up his tattooed arm, after being taken out for walks by his grandad as a child; or the scrapes that Thomas and his dad Jerry get into on their adventures in the wild."
Omni Productions were chosen as the right production team for the job based on their expertise in conveying authentic stories, says Dan James at Cherry Tiger: "We knew we had the right director and production team on board when they showed us a film called 'Don't Look at the Camera – a film about how real people could be coached into delivering great performances. The authenticity of their style shone through, which precisely met the brief."
The campaign launched on TV, digital, social, print and POS from 26th December 2018 until 28th January 2019.
Source: Cherry Tiger