Bathstore, the UK's market-leading bathroom retailer, is to launch its first brand campaign after appointing Saatchi & Saatchi London as its lead creative agency.
The 'bathrooms matter' integrated push builds on Bathstore's position as market-leader in the specialist bathroom retail category. Given Bathstore's heritage and expertise, its first store opened 25 years ago, Bathstore understands the importance of a bathroom and its role in the home as the room where the big things in life happen. This campaign shows the real reason why you should only ever visit the experts when looking for a new bathroom.
Bathstore's iconic blue rubber duck observes some big moments whilst in the bathroom. The new Bathstore 60 TV ad references kids playing in the tub (ship), a city slicker preparing for the most important clients of the day – his giggling children, a best man ahead of a wedding staring at his reflection as he practices his jokes, and the celebrations that follow a woman finding out she's pregnant. The film finishes with the new endline 'Bathrooms matter. Visit the experts.'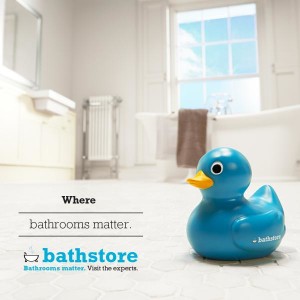 The fully integrated brand campaign encompasses TV, print, van liveries, digital and social activity. This will be supported with an integrated PR strategy that will build on this platform in the next 12 months.
Claire Bayliss, CMO at Bathstore, said: "Having spent a considerable amount of time in developing our brand strategy, we wanted to take the next step and bring on board an agency who could help us tell the Bathstore story and support our continued growth. As the bathroom experts, we know better than any other retailer how important bathrooms are to our customers. This campaign puts the heart back into the bathroom, giving examples of special moments that resonate with many of us and reminds people why it is a room worthy of investment."
Talking of their appointment, Magnus Djaba, the CEO of Saatchi & Saatchi Fallon UK, said: "Bathstore is an entrepreneurial brand and a growth business with a spirit that matches our own. This, coupled with the chance to deliver transformational creative work, makes this an ideal partnership."
Rob Potts, ECD at Saatchi & Saatchi, said of the new ad campaign: "Not all rooms are created equal. The bathroom is where your wife finds out she's pregnant, where you relax and get yourself together in the bath after a hard day's work. It's even the room where you sing-along to 'Don't Stop Me Now' in the shower just because you can. The bathroom's a special place and we'd like to think we've captured that in our ad."