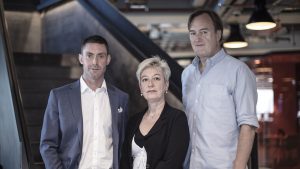 Havas helia announces the expansion of its senior management team, as Paul Kitcatt and Lisa Lee join to drive the business forwards and support the marketing agency's sustained growth, following a series of new business wins.
Both seasoned marketing professionals, Kitcatt and Lee will be joining as Non-Executive Director and Business Strategy Director respectively. Working directly alongside the agency's Managing Director David Macmillan as he turns up the heat on Havas helia's ambitions, Kitcatt and Lee's expertise will help maximise talent and potential at the agency and raise the bar on creative output.
Having started his career in Cirencester at Brann, Kitcatt is best known for co-founding Kitcatt Nohr Alexander Shaw. He brings with him extensive creative agency experience, and has worked with brands including Lexus, Waitrose, AXA, VSO, DogsTrust, HSBC, Sky and the NSPCC. Kitcatt has been informally working with Havas helia for some time but will now be working with the senior management team on a permanent basis. His remit includes driving creative output on clients Gap and Pets at Home.
With over 30 years in the business, Lee brings with her substantial international experience from across the network agency landscape. Originally an award-winning writer and CD before moving into planning, she held roles at Ogilvy, Young & Rubicam, Wunderman and Saatchi & Saatchi before joining Nomads as Global Chief Strategy Officer, where she worked on clients including Emirates, Pampers, Mead Johnson Nutrition, Grolsch and National Geographic. At Havas helia, Lee will be working directly with Diageo, Volvo and Unilever to raise the bar on the strategic and creative thinking.
David Macmillan, Managing Director at Havas helia said: "I am delighted that Paul and Lisa are joining the team at a time of real momentum and dynamism for the agency. Paul will deliver expertise from his distinguished CRM career and Lisa is a strategic visionary who I have long admired. She will be working directly with clients, to give them a level of strategic thinking she's previously deployed on numerous global brands with resounding success. The agency is in a strong position following a streak of new business wins, awards wins, and 20% year-on-year growth and the pair's extensive creative experience will undoubtedly have a positive impact."
Lisa Lee, Business Strategy Director at Havas helia said "I was hugely impressed by the quality of thinking at Havas helia and am very excited to be joining an agency with clients such as Diageo, Volvo, and Royal Mail, particularly as they are winning so many awards. I look forward to working with the Management team here to continue their success."
Source: Havas helia