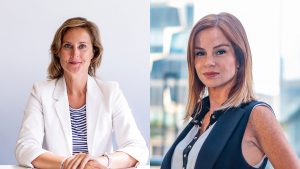 Two accomplished new hires have joined the Serviceplan Group in Dubai and Belgium. Sophie Vanderwinkel is Managing Director of Mediaplus in Belgium, and Natalie Shardan the new General Manager of Serviceplan Middle East.
Both Sophie Vanderwinkel and Natalie Shardan strengthen the management teams, at Mediaplus Belgium and Serviceplan Middle East respectively. These strategic hires further reinforce the internationalisation of Serviceplan Group.
Markus Noder, Managing Director of Serviceplan International commented: "We are very pleased with these two top personalities, which strengthen our Houses of Communication in both Dubai and Belgium, and help us to continue successfully implementing our internationalisation strategy."
Sophie Vanderwinkel is now responsible for Mediaplus at the House of Communication in Belgium. The House of Communication in Belgium has just under 100 employees.
Sophie has worked for the Finnish company Sanoma throughout her career, most recently as Head of Inbound Sales & Advertising Care. She will take over the position of Kathleen Soontjens, who will now assume the role of Managing Director in the holding following the successful establishment of Mediaplus in Belgium.
In addition to Rami Hmadeh, Natalie Shardan is now Managing Director of Serviceplan Middle East in Dubai. The seasoned agency manager has worked at Y & R, JWT, Mullen Lowe MENA and BBDO, with brands including Emirates Airlines, Nestle, PepsiCo and Pizza Hut. Together with Rami Hmadeh, Natalie will lead and develop the House of Communications in Dubai with around 60 employees.
Source: Serviceplan Group