Shell and a band of international stars have unveiled a unique new music video which spotlights a diverse range of clean energy initiatives across the world.
'On Top of the World' features five global music artists – including Oscar-winner Jennifer Hudson and British songstress Pixie Lott – and uses cutting-edge custom animation to help each star demonstrate the impact of clean energy projects supported by Shell around the world, including Brazil, China, the US, Kenya, India, Germany and the UK.
The video showcases both 'bright energy ideas' created by entrepreneurs supported by #makethefuture campaign, and some projects from Shell and its partners to create more and cleaner energy solutions, including:
Insolar: Providing solar energy access to low income communities in Brazil
GravityLight: Creating sustainable and cleaner light for families and children in Kenya
Shell Natural Gas: Providing cleaner cooking with natural gas, saving families invaluable time in India
Shell Partnership with Global Alliance for Clean Cookstoves: Bringing clean cook stoves to families and creating healthier homes in China
Shell Hydrogen: Creating additional cleaner transport choices for the future in the USA, Germany and the UK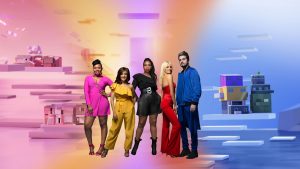 As part of the Shell #makethefuture 50 Night Tour in Kenya in 2016, GravityLight – one of the clean energy solutions showcased in the music video – was introduced to local communities as a cleaner alternative to kerosene lamps. The campaign then picked up three Lions at this year's Cannes Lions Festival of Creativity.
'On Top of the World' is the latest chapter in the #makethefuture global energy relay, that began in 2016 with the launch of the 'Best Day of My Life' music video, which subsequently topped viral video charts and became one of the most viewed online videos of the year.
Oscar-winner Jennifer Hudson, British songstress Pixie Lott, Brazilian chart-topper Luan Santana and Nigerian artist Yemi Alade reunite, and are joined by Indian talent Monali Thakur to cover the Imagine Dragons' hit 'On Top of the World'.
Malena Cutuli, Group Head of Integrated Brand Communications at Shell said: "After the incredible success of our first music video, we are thrilled to have the band back together, and with a new voice added. Music is a universal language and, by tapping into our passion for it with this stellar line up of artists, we can spark a global conversation around access to cleaner energy in an engaging way. Addressing future energy challenges demands collaboration between and among businesses, communities, entrepreneurs, influencers and citizens – it is the key to unlocking more and cleaner energy solutions."
Jennifer Hudson said, "As a performer, it's really exciting to be able to lend my voice to inspire future generations. I am proud to be collaborating with Shell #makethefuture, to encourage people to learn more about the potential of new clean energy solutions."
Particle3, CORD Worldwide, Eko, J. Walter Thompson London, Mediacom, Picnic, Colloquial and Edelman created an integrated global campaign for On Top of The World that includes PR, ATL, paid media, social, talent, and social enterprise partnerships.
The music video launches December 4 on the Shell YouTube page, and is accompanied by a suite of "Energy Explainer" films for people to find out more about each of the initiatives.
Source: Edelman