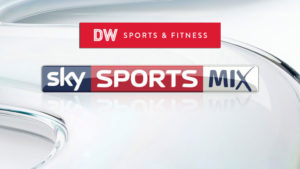 Sports retail and gym group DW Fitness First is to become the first ever channel sponsor of Sky Sports Mix, helping to drive brand awareness for the retail and fitness company. The deal follows the recent relaunch of Sky Sports along with Sky Sports Mix, Sky's free to air sports channel, moving into a higher profile channel position.
The 12-month deal, originated by Sky Media with Electric Glue, involves a multi-platform creative and media campaign across linear spot airtime, digital and addressable TV. The TV campaign will involve channel-wide sponsorship from July 26th as well as programme sponsorship idents running across a wide range of originated and sports action content. In addition two TV commercials will run from August across the full range of the recently re-launched Sky Sports channels. The commercials will be focused on targeting a male audience with a football theme at the start of the season and then a wider audience profile with a gym-themed creative.
The partnership between Sky Sports Mix and DW Fitness First provides the perfect platform to support both companies' missions to encourage interest and participation in sport at all levels.
Using Sky AdSmart, the company will target viewers in certain areas to promote relevant local activities. For example, Bristol-based Sky customers will be served adverts for the launch of a new gym and retail experience in Bristol Filton; while customers in London suburbs will view adverts promoting Fitness First gyms, which are primarily located within the M25.
At every consumer touchpoint, data will be collected across the Sky customer base and used in conjunction with DW Fitness First's own customer data and their affiliations with numerous sporting bodies to provide targeting insight to increase the reach and effectiveness of the campaign.
Launched in August 2016, Sky Sports Mix brings a huge variety of sports (from football, tennis and netball through to surfing, drone racing and parkour) to a whole new audience with an average of five hours of live action each day and 16 different sports covered in that time. It is available free to every Sky customer, as well as in Virgin Media homes, and has moved into the 'Entertainment' section of Sky's channel list with a new EPG position of 121 allowing for an even wider audience – which is expected to significantly grow from the average unique monthly audience of 3 million viewers.
This wide-ranging audience of sports fans was the ideal target for DW Sports Fitness First.  This is the first sports channel sponsorship to be announced since Sky launched the new dedicated sports channels earlier in July 2017.
The creative for this campaign was developed by Hatch London.
Paul Barrett, Head of Commercial Partnerships at Sky Media said: "Sky Sports is a highly established and credible platform, and brands recognise the power of association with this most premium of content. Sky Sports Mix creates the perfect opportunity for DW Fitness First to develop their brand proposition through talking to a sports entertainment-loving audience via an 'always on approach'. This serves to deliver against DW's objectives; but it also acts as the core foundation for  a much deeper partnership that drives business growth by leveraging the touchpoints that exist across the broader Sky ecosystem."
Lee Pinnington, Director of Marketing at DW Fitness First, said: "Following the acquisition of Fitness First, DW Fitness First is now the second largest health club operator in the UK. Combined with our 90 retail stores, we are perfectly positioned to fulfil our vision to become the biggest end to end sports participation brand in the UK. The partnership with Sky is really exciting, bringing together DW Fitness First, a business that is all about sports participation and Sky, the leading UK broadcaster for Sports Entertainment. The partnership allows us to reach new audiences to encourage participation by people of all ages and abilities, whatever their great is."
Simon Orpin, CEO at Electric Glue, said: "As a business, we broker full service media partnerships between our clients and key media owners that go beyond traditional media. DW Fitness First is in a unique position in its sector, combining both an extensive retail estate and network of gyms. The partnership is built upon the creative thought of "Great starts here" and the multiple media opportunities that the partnership provides, across the customer touchpoints of both partners, brings to life the full range of creative work produced by Hatch in a hugely compelling and effective way. By promoting both sports equipment available in store and the experience of sport in gyms, DW Fitness First aim to provide inspiration and encouragement for the UK population to embrace sport at any level."
Source: Sky Media