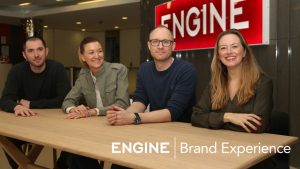 Brand experience agency Slice, part of ENGINE, will rebrand to ENGINE Brand Experience, effective immediately.
In its 20-year history, Slice has delivered award-winning brand experiences for some of the biggest brands globally, transforming how they engage with consumers in an innovative and meaningful way.
Following ENGINE's restructure at the beginning of the year to one integrated brand, ENGINE Brand Experience will unlock access to enhanced capabilities and greater resources to help clients create physical and emotional experiences with lasting commercial and brand impact, with a vision to make moments matter.
Lisa Parfitt, Managing Director of ENGINE Sport & Brand Experience will oversee the specialist division together with Dan Keene, Director of Brand Experience, Josh Robinson, Creative Director and Charlie Johns, Head of Production working alongside a number of specialist teams across ENGINE.
Dan Keene, Director of Brand Experience, says: "In the last 18 months we have seen clients embrace the behaviour-shifting values that live experiences can deliver. Our work is more diverse and innovative than ever but is still rooted in audience insight, rich in creativity and effortlessly integrated into multi-channel campaigns. Operating in the new one ENGINE brand structure has had an immediate impact, further accelerating how we can deliver outstanding work for clients and enhancing our creative and strategic capabilities."
Jim Moffatt, European CEO of ENGINE adds: "Experience is increasingly at the heart of every marketing strategy. Immersive, brilliantly executed events are often the best way of bringing your brand promise to life. The brand experience team are now at the centre of what we do at Engine, giving this team access to the rest of the marketing stack we have in house is not only very logical, but very exciting. I can't wait to see what happens."
ENGINE Brand Experience clients include Accenture, Bose, Google, Just Eat and TUI.
Source: ENGINE