Creative agency Space are bringing a powder day to London – encouraging commuters to dig out their salopettes and book flights to the Alps with specialist ski airline, Swiss International Air Lines (SWISS).
An interactive billboard at King's Cross station will deliver on-demand snow, when prompted on twitter with #SnowNow. The experiential campaign targets the typically late-booking UK market to get online to book with SWISS, proving to customers that "snow is only ever one click away".
The integrated campaign features the specially-designed billboard, and includes a promotional overlay activated by the hashtag. Every tweet triggers a cascade of snow, while all participants receive £25 off their next SWISS flight and the opportunity to win one of five pairs of return flights to the Alps.
Activity at the station will be further elevated by a series of Instagram influencers – while a PR campaign will provide exclusive competitions in London publications.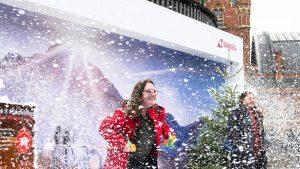 Chloe Ravat, Senior Marketing Manager, at SWISS said: "The 360o campaign is a fun and engaging way to attract attention to our brand. The reactive nature of the billboard activity mimics how UK skiers typically book their holidays – online and at the last minute. Space has built on SWISS's knowledge of consumer behaviour and worked it into the campaign to capture the public's attention and transport them to the Alps."
David Atkinson, managing partner at Space added: "SWISS is the skiers' airline – with more than 180 flights a day from London and free ski carriage as part of its inclusive fares. The #SnowNow campaign is the perfect conversation starter for SWISS, disrupting the humdrum of the London commute, letting us boost brand awareness and drive traffic online, as well as offering the chance to win a premium taste of the Alps with SWISS."
Source: Space