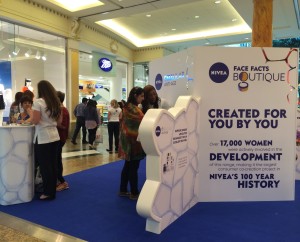 Space has created a new experiential campaign for the NIVEA Cellular Anti-Age range – the latest products from the UK's fastest growing skin care specialist.
NIVEA's 'Face Facts Boutique' gives the target consumer the chance to fully immerse themselves and engage with the latest product range from the brand. It will provide the target audience of women aged 40-60 with an opportunity to learn more about the product range and experience the products for themselves. A NIVEA skin expert will be on-hand providing free skin consultations using specially developed NIVEA skin technology to analyse their skin, advise on the best skincare routine and answer any skin-aging queries they may have. The experience will be visiting some of the UK's largest shopping centres.
The premium educational experience will centre around a bespoke cellular 360 degree experiential stand that houses a skin consultation room at its core. The Face Facts Boutique provides multiple opportunities for consumers to learn about the product range and its effects on their skin via a sensory NIVEA experience, bringing various different elements of the product range to life via scent, touch and feel. In addition, trained NIVEA brand ambassadors will be on-hand to engage with consumers and sample the product range.
NIVEA's 'Face Facts Boutique'  will also be running a 'Big Blue Truths' competition where consumers will be asked to state whether various anti-aging skincare tips are true or false, for a chance to win a  free trip for two to NIVEA's own salon, 'NIVEA Haus', in Berlin. The Big Blue Truths will be revealed on NIVEA's Facebook page after the two-week campaign.
Sophie Rock, UK face care brand manager at NIVEA, comments: "Space has created a campaign to close the gap between awareness and trial and challenge the inertia that so many women face when it comes to changing their skin care products. We want to educate and show the visible results NIVEA Cellular Anti-Age has on the skin. With a NIVEA skincare expert on-hand to analyse female skin and highlight areas where this range can assist the individual and their skin needs, we hope women will try the range to see and feel the results for themselves."
"Space understands our commercial and creative needs and has crafted a campaign that combines the two in a clever and highly targeted way."
David Atkinson, managing partner at Space, said: "NIVEA is such a powerful and trusted brand, and NIVEA Cellular Anti-Age has experienced a hugely successful launch.  The Face Facts Boutique now gives the target audience the chance to truly experience the product and how it genuinely delivers an end benefit rather than just a hypothetical solution.  We create real intimacy between the brand and its audience, through the combination of the NIVEA brand and this product's scientific story, revealed in a sensory and engaging way."
The Face Facts Boutique will visit Manchester's Trafford Centre, Sheffield's Meadowhall Centre, the Bullring in Birmingham, Westfield White City in London and Bluewater in Kent. It will run from 14th to 29th July.