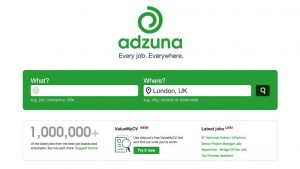 Adzuna, the UK-based job search engine, has today announced it has been awarded the contract to replace the UK government's job search platform, Universal Jobmatch. Following a competitive procurement process, the company will be providing the new service from Q2 2018.  As one of the largest online government services, Universal Jobmatch connects millions of jobseekers with thousands of employers online and through job centres around the UK.
The service will offer a fast, simple experience and powerful search using Adzuna's technology, matching jobseekers to employers' available roles quickly and effectively. The new service will be rolled out across the country this summer.
The tool will continue to provide jobseekers with the ability to search for work 24 hours a day, 7 days a week. Jobseekers will be able to create an account to which they can upload CVs, create relevant email alerts and view their previous account activity. Changes to the user registration process will see a simpler, more modern way of accessing and managing job seeker accounts. The free job posting process for employers will also be streamlined.
Minister for Employment, Alok Sharma, said: "I want those looking for work around the country to have the very best opportunity to find work that suits their needs. Our free Universal Jobmatch service offers one of the largest job search functions out there – and with a near record number of vacancies, there are plenty to choose from. By joining forces with Adzuna we'll make the platform even better for both jobseekers and employers."
Doug Monro, co-founder of Adzuna, commented: "We are thrilled that the Department for Work and Pensions has chosen our solution to provide a modern job board for the large numbers of jobseekers and employers who use the service every day. Throughout the procurement process, we have been impressed by the DWP's agile approach to change and openness to adopt new technology. What better way to build on our own private sector success to date than by working with government to help jobseekers across Britain find better, more fulfilling jobs."
Adzuna, launched by the team behind Gumtree, Zoopla and Qype in 2011, has demonstrated impressive growth in the past 6 years, growing to more than 10 million monthly unique visitors across 16 countries from its West London office staffed by 50 multi-national talented tech professionals. Adzuna also just graduated from the Government's prestigious Future Fifty Programme, recently launched a national TV and outdoor advertising campaign, and has over 5 million registered users.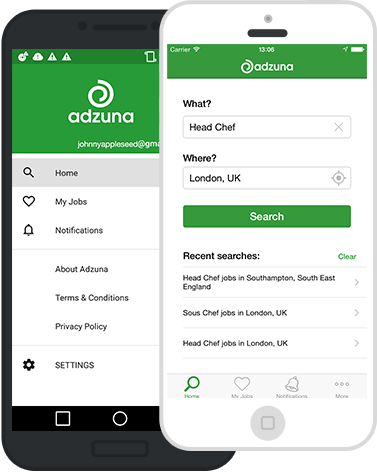 Adzuna is the market leader in giving users transparency about UK employment data – showing salary data for thousands of keyword and location combinations on our site, provide the PM, ONS and press with labour market data, and offer their Jobsworth salary predictor against every ad with no salary.
Gerard Grech, CEO of Tech City UK, said: " Across the country ambitious entrepreneurs like Doug and Andrew are working on digital tech businesses that can make dramatic improvements to our lives and the way we work. I'm so delighted to see one of our Future Fifty companies win such an important Government contract at a critical time in their growth. They are a great example of why the UK is one of the best places in the world to start or grow a digital tech business."
Emma Jones, Small Business Crown Representative, concluded: "The award of this contract reflects an exciting shift in thinking. It's great to see high-growth, British SMEs winning contracts like this, and using their cutting-edge technology to transform public services for the better. What's more, it signifies a move from simply connecting jobseekers and jobs, to helping people climb the career ladder – into better paid and more fulfilling work that fits into their lives. For Britain's jobseekers, this can only be good news, and for our employers, it could help bring great productivity gains and the revitalised, inspired workforce that we need."
Source: Adzuna