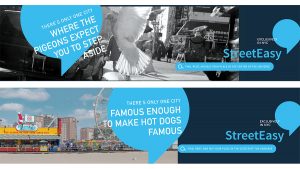 With home-shopping season upon us, StreetEasy has officially debuted its latest ad campaign, "There's Only One City."
The 2019 campaign features an array of still photography depicting real-life scenes familiar to New Yorkers, paired with copy that highlights how these relatable, everyday moments are unique to life in this epic city. To us New Yorkers, New York isn't just another place to live — it's the center of the universe.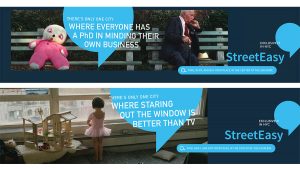 The campaign was created in partnership with Lightning Orchard, a new, New York City-based creative agency, and aims to acknowledge and celebrate New Yorkers' desire to thrive and belong in the greatest city on earth. As a brand that's exclusively dedicated to helping people find a home in New York City, we wanted to celebrate the unique experience of living here and credit New Yorkers for their choice to call the center of the universe home.
You'll see the ads throughout the city, focused around the places where New Yorkers spend their time: on streets, sidewalks, subway stations, subway cars, buses and taxis. For the first time, this year the ads will also be featured in local magazines, including New York and TimeOut New York, as well as large-format spots around the city, including billboards and wallscapes in some of New York's most popular neighborhoods.
This is StreetEasy's fifth campaign since its advertising debut in 2015, with "Live As You Please," which was followed by 2016's, "Find Your Formula," and 2017 and 2018's "Find Your Place" campaigns.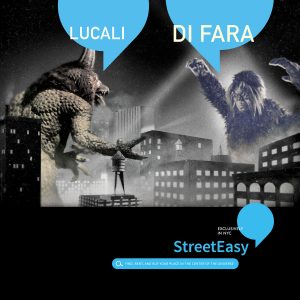 Peter Edwards, VP-marketing and analytics at StreetEasy said: "As a brand and product built exclusively for New Yorkers by New Yorkers, we love this city, and wanted our latest campaign to celebrate the many reasons living in New York is better than living any place else. Through our placements across NYC, we aim to highlight and celebrate the everyday moments that make living in NYC every bit worth the effort."

Laura Janness, Chief Strategy Officer, Lightning Orchard commented: "Localized brand campaigns have become too common, and insincere. Localizing a brand doesn't make it a local brand. StreetEasy, like the people it serves, is a New Yorker. It's not also here. It's only here."

Jeff Kling, Chief Creative Officer, Lightning Orchard said: "Just because New York is the only city many of us would consider for a home doesn't make life or success here any less difficult. It's a real choice. It deserves recognition."

Barney Robinson, Chief Executive Officer, Lightning Orchard (specifically in relation to the monster executions) added: "A lot of agencies talk a good game about the imperative of operational agility. I dressed up as a building-sized ape to get this campaign made. It was hot, sweaty and borderline undignified. But we do what is necessary for the cause of creativity."
Source: Lightning Orchard