Dubai-based creative agency TBWA\RAAD, have launched their latest initiative for INFINITI addressing women driving in Saudi Arabia.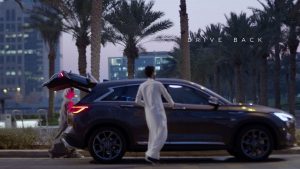 Women in Saudi Arabia started driving for the very first time in June 2018. It was a day of celebration, anxiety and certainly lots of expectations. While many brands took the opportunity to send messages of support through traditional advertising media, INFINITI were on the road documenting an incredibly heart-warming story.
Rawan Hamza, a young Saudi woman who has been living abroad and had never driven in her own country before, drove over 800 kms from Dubai, UAE to Saudi Arabia, accompanied by her brother, and to surprise her mom back home.
It was a beautiful and emotional moment the Nissan-owned brand were fortunate to witness, Rawan might have possibly been one of the first women to ever do so since the ban was lifted. Her feelings crossing the border and a journey full of memories genuinely represent what this change really means for every Saudi woman.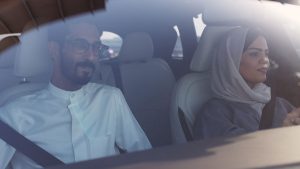 To take the story to everyone, INFINITI created a three-min film called 'Drive Back', and aired it early this week in cinema theatres across the region, (they even surprised Rawan with an invitation to the movies to see her film for the first time) The film is also available now on different social media platforms for everyone to watch.
Joanna Chami, INFINITI Creative & Media Manager – Marketing, said: "This film is a beautiful depiction of what we stand for as a brand. As we place the driver at the centre of everything we do and one of our core pillars is being "Human" in our communication, this film symbolises how QX50 acts as a facilitator to empower women who want to push boundaries yet have a sensitive and emotional side to them. We also wanted to go beyond just stating the obvious by exploring how women will start creating their own stories in their home country."
Source: TBWA\RAAD