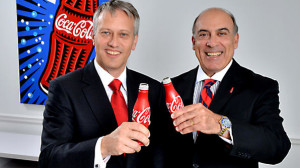 The Coca-Cola Company announced James Quincey has been named President and Chief Operating Officer (COO), effective immediately. As President and COO, Quincey will have responsibility for all of the Company's operating units worldwide. He will report directly to Chairman and Chief Executive Officer Muhtar Kent.
Quincey, 50, is a 19-year veteran of Coca-Cola and since 2013 served as President of The Coca-Cola Company's Europe Group, which comprises 38 countries, including the Member States of the European Union, the European Free Trade Association countries and the Balkans. Under Quincey's leadership, the Europe Group, the Company's most profitable operating group, strategically expanded its brand portfolio and improved execution across the geography. These actions helped drive solid topline growth and expanded the Company's leading market share position in total nonalcoholic ready-to-drink (NARTD) beverages despite the volatile and prolonged macroeconomic challenges in the region.
Quincey also played an instrumental role in leading the recently announced proposed merger of Coca-Cola Enterprises, Coca-Cola Iberian Partners and Coca-Cola Erfrischungsgetranke AG to form Coca-Cola European Partners Plc., in what will become the world's largest independent Coca-Cola bottler based on net revenues.
"Over nearly two decades, James has built an impressive track record of strategic, operational and commercial accomplishments," said Muhtar Kent, Chairman and Chief Executive Officer. "He has proven to be a successful and trusted leader and brings to this position a strong reputation for developing people and inspiring teams. His wealth of experience across our global system, particularly in Europe and Latin America, will be a valuable asset as we continue to accelerate growth through our 2020 Vision and our previously announced five strategic actions. James is emblematic of the deep bench strength we have developed at Coca-Cola, and I could not be more pleased about his appointment to this critical role at this important time."
"The Board unanimously agrees that James Quincey's leadership experience coupled with his strategic thinking and proven ability to deliver results make him the right person to help execute Coca-Cola's strategic priorities and drive sustainable growth," commented Sam Nunn, Independent Lead Director of The Coca-Cola Company's Board. "Additionally, James will complement Muhtar's skills and qualities, making them a formidable team as they work to advance the Company's growth agenda."
Reporting to Quincey will be Irial Finan, President, Bottling Investments and Supply Chain;
J. Alexander "Sandy" Douglas Jr., President, North America Group; Brian Smith, President, Latin America Group; Atul Singh, President, Asia Pacific Group; Nathan Kalumbu, President, Eurasia & Africa Group; and Harry Anderson, Senior Vice President, Global Business Services. Also reporting to Quincey will be two executives leading the Company's strategic investment partnerships, Deryck van Rensburg and Doug Jackson. Dan Sayre, Western Europe Business Unit President, and Nikos Koumettis, Central and Southern Europe Business Unit President, will continue to report to Quincey.
"I am excited and honored to take on this role and look forward to partnering with Muhtar and our talented senior leadership team to deliver on our 2020 Vision and help accelerate the strategic actions we've outlined to reinvigorate growth across our Company and system worldwide," said Quincey.
Concurrent to Quincey's appointment, Ahmet Bozer, Executive Vice President and President of Coca-Cola International, will retire after a distinguished 25-year career in the Coca-Cola system. Bozer will stay with Coca-Cola until March 2016, to ensure a smooth transition and serve as an adviser to Muhtar Kent and the Company on key strategic initiatives.
Kent said, "During his more than two decades at Coca-Cola, Ahmet has made numerous contributions to our system. As President of International, he was instrumental in leading both the recent streamlining of our international business and the evolution of key bottling operations in Africa and Western Europe. In addition, he has led the sustained growth of many of our key developing markets throughout Eurasia and Africa, and has played an important role in reinvigorating growth in critical Asia Pacific markets.
Added Kent: "Ahmet has been a consummate Coca-Cola leader who will be remembered by everyone across our system as a leader of great integrity, character and intellect. He was a very important and respected business partner of mine over many years. He was also a great friend, and will remain so. I want to wish Ahmet and his family continued success and happiness in the future."
Bozer, 55, began his career with Coca-Cola in 1990 as a Financial Controller Manager in Atlanta, and has advanced to serve in numerous leadership roles throughout the Coca-Cola system, including Managing Director of Coca-Cola Bottlers of Turkey (now Coca-Cola Icecek A.S.), President of the Eurasia Group and President of the Eurasia & Africa Group, where he led the Company's business activities in more than 90 countries. He was named President of Coca-Cola International in 2012.
Before joining Coca-Cola, Bozer spent five years in various audit, consultancy and management roles with Coopers & Lybrand in Atlanta. He holds a Master of Science in Business Information Systems from Georgia State University in the U.S. and a Bachelor of Science in Business Administration from Middle East Technical University in Ankara, Turkey.