The Guardian has launched a fresh marketing push for its international news magazine, Guardian Weekly, in the German capital. Germany is the largest of the EU markets for the publication, with a growth of 54% since its relaunch in 2018.
The news brand has installed interactive street placements in Berlin to encourage bypassers to take complimentary copies of Guardian Weekly. The visuals are striking, using some of the most iconic covers produced over the last 12 months.
The Guardian's reader research shows that European readers and in particular, Germans look to the news brand for a global perspective. They value its investigative journalism, reporting on transnational issues including the climate crisis and news and opinion around EU politics.
It was this insight which resulted in a conceptual brief to its in-house agency, OLIVER.
Kate Davies, Director of Brand and Awareness, the Guardian, said: "The Guardian is in a terrific position to introduce and amplify our global news magazine which reflects our independent, unbiased journalism to a European audience.

"Working with OLIVER, we've built a flexible and dynamic way of working to deliver brilliant creative campaigns like this Berlin experiential for Guardian Weekly."
Sam Jacobs, Creative Director, OLIVER Agency, said: "Our response presents the magazine in a dramatic way, inviting bypassers to arm themselves with the facts behind the most important global issues and be inspired to take action.

"OLIVER is the only company in the world to exclusively build and run in-house agencies for brands. We pride ourselves on delivering strong creative results in fast-paced environments. Our proximity to the Guardian team means we can be agile, and our understanding of the brand enables us to scale up or down depending on business needs."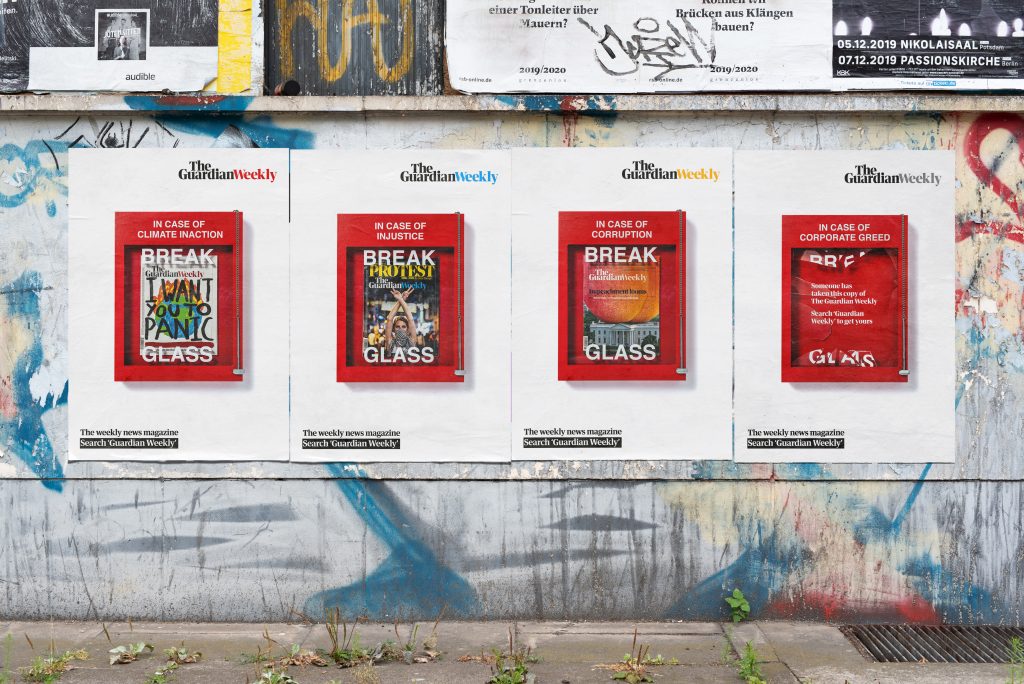 OLIVER Agency specialises in providing marketing teams that are built inside companies. At the Guardian, Jacobs and his team work across all facets of the Guardian brand, including helping to support its contributions and subscriptions marketing efforts.
The in-house team has worked on a number of successful Guardian marketing initiatives, including its Joy of Print campaign, which won Gold for Best Customer Acquisition Campaign at the 2019 Data and Marketing Association Awards.
Other Guardian work produced in partnership with OLIVER includes a London Underground outdoor campaign for the Guardian's flagship podcast, Today in Focus, and illustrations for the Guardian Jobs brand identity. OLIVER works in-house with other brands including Barclaycard and Unilever.
Source: Oliver agency