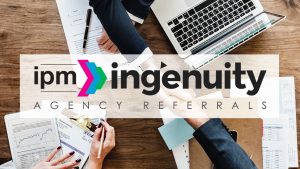 The IPM, the UK's trade body for promotional marketing and brand activation, and new business consultancy Ingenuity announced the launch of IPM Agency Referrals: Powered by Ingenuity, bringing agency recommendations to the IPM's member base for the first time.
The new service will give IPM members access to exclusive brand owner briefs that fall within their discipline expertise. Ingenuity will be managing the service to help create the right brand and agency/supplier partnerships that support viable growth for everyone. The IPM will manage the 'agencies looking for service/supplier agencies' aspect of the service.
The launch of IPM Agency Referrals: Powered by Ingenuity is part of a wider strategic shift for the IPM as it strives to deliver an even more comprehensive membership package, going above and beyond to help members grow their businesses, and identifying and partnering with key industry players is a key part of this. As the sector leader, Ingenuity is well-placed to support new business and networking for the IPM's members.
From today, brands will be able to reach out to the IPM Agency Referrals: Powered by Ingenuity team to discuss their challenges or brief and start the journey to finding the ideal partner. It's free for brands to use, and agencies only pay a finder's fee if they end up working together.
Paul Cope, Managing Director at the IPM said: "The IPM prides itself in celebrating the best agencies, service agencies and work in the promotional marketing and brand activation space. We want to help our members grow their businesses and give brands access to the wealth of expertise and talent that we know they offer. Ingenuity is the perfect partner to help facilitate this."
Dario Pagani, Head of Brand at Ingenuity said: "Ingenuity's integrated new business offering allows us to have an unrivalled, bird's-eye-view of the agency landscape – we believe that brands should have this information at their fingertips. Our partnership with the IPM strongly supports this. We have a long-standing relationship with them and we're really looking forward to moving quickly and getting great results for their members."
Source: Ingenuity