This summer the LEGO Group is one of the national sponsors of the UEFA Women's EURO 2022
The partnership forms part of the brand's mission to champion inclusive play for all children
To support their national sponsorship the LEGO Group are implementing an integrated campaign across multiple touchpoints, including paid media, PR, experiential and the brand's own channels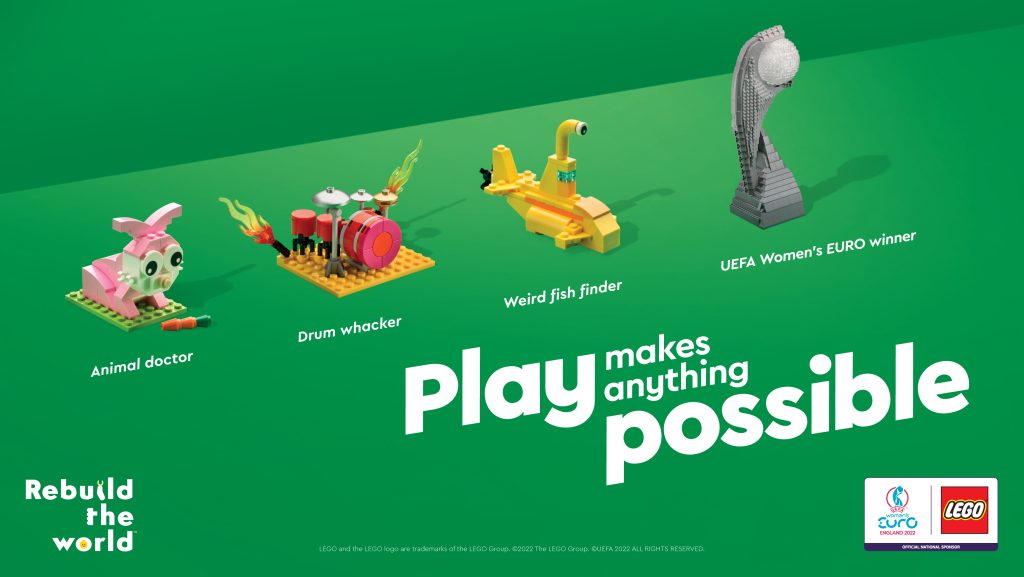 This summer the LEGO Group is a national sponsor of the UEFA Women's EURO 2022 tournament as it looks to show children that 'Play Makes Anything Possible'. The sponsorship is part of its wider commitment to champion inclusive play and ensure children's creative ambitions are not limited by old fashioned gender stereotypes.
The integrated campaign across PR, experiential, digital and out of home has been designed to drive positive conversations around the partnership's shared values including inclusive play for all children, inspiring positive change for future generations and helping children to realise their unique talents and potential, alongside raising awareness and engagement with the tournament.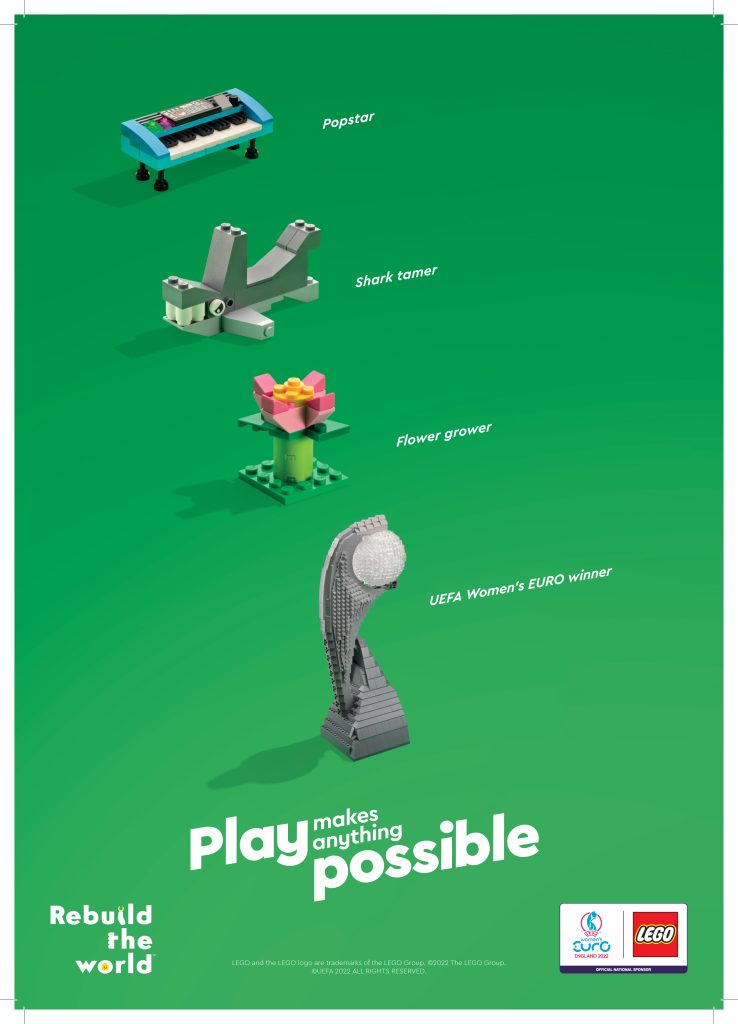 The campaign includes:
Experiential activity at UEFA Women's EURO Fan Parties at Old Trafford and Trafalgar Square where kids can create their own fantastical football team and enjoy various build challenges and games. The experiential will also be at LEGOLAND Windsor from 9th – 19th July to further raise awareness of the tournament.
Out of home, social and digital bringing to life how play makes anything possible and featuring an eye-catching creative that speaks to the power of play in helping children achieve their dreams.
'Play Your Own Way' lesson plans for schools; classroom resources designed to encourage children to celebrate the role models in their lives
Engaging Alex Scott, Lucy Bronze and Steph Houghton as ambassadors, amplifying their stories and highlighting the importance of role models in helping kids achieve their ambitions
A digital content series featuring Steph, Lucy and Alex, inspiring children to play without limits both on the pitch and with LEGO bricks.
The campaign will also be featured across the LEGO Group's own channels including LEGO.com and LEGO Life.
Isabel Graham, Head of Marketing, the LEGO Group UK and Ireland says: "We are very proud to be a National Sponsor of the UEFA Women's EURO 2022 tournament and to play our part in growing the narrative around women's football and the importance of inclusive play. It's been fantastic to see that a record-breaking number of tickets have been sold for the matches already, with over 20% being for children and I'm really looking forward to the next few weeks of play."
Source: the LEGO Group