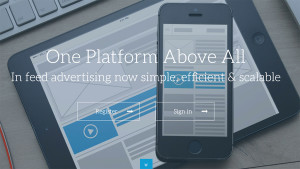 Adyoulike, the European leader in native advertising, announced the launch of its in-feed native retargeting platform. This is the first time that retargeting has been integrated into in-feed native advertising, and represents the company's commitment to serve consumers relevant and highly targeted content in an unobtrusive way.
The technology works much like retargeting in traditional display, but will sit natively, in-feed, matching the editorial look and feel of the publishing website – but will be clearly labelled as 'sponsored by' or 'promoted by' content.
Retargeting works by tagging a consumer with a cookie when they visit a new site. Later, when the cookied visitors browse the web, the cookie will let a brand or retailer know when to serve the consumer relevant native content, ensuring that the ads are served only to people who have previously visited the brand or retailer's website.
In 2013 it was estimated that retargeting was one of the most effective methods of online advertising, resulting in a 400% boost in ad response and 50% higher conversion rates.
The integrated technology has been developed by Adyoulike's tech team, adds further targeting to the native stack and will be offered to its partner brands and publishers.
Francis Turner, MD at Adyoulike said: "The strengths and capabilities offered by native advertising are huge. Couple that with the proven response rate of retargeting users with relevant content to help them through the buying cycle and you have the catalyst for a really effective piece of digital advertising.
"Native offers a format that is unobtrusive and retargeting simply adds further content relevancy to in-feed native delivery. It's the perfect match, and we believe it will greatly benefit our advertisers, publishers and SaaS partners who are keen to offer relevant ads that don't disrupt their consumer's online experience."