In France, two women are victims of domestic violence every five minutes. However, instead of reaching out to support services, many young women are turning to the internet for help – or even worse, not seeking help at all.
To give voice to this issue, TOMS has teamed up with French changemakers, The Gucci Gang, and French youth non-profit En Avant Toute(s) to take a stand against youth domestic violence and create safe spaces for young women in France.
Known as the original purpose brand with their One for One concept, TOMS has evolved its model to inspire people to contribute to positive change in their local communities.
Lisa Hogg, Senior Director – Marketing & Giving at TOMS comments: "TOMS is only able to create impact with the partnership of our consumers, so supporting issues that they care about and resonate directly with them is our focus. What we've aimed to do in FW19 is really provoke thought on the issue areas that we are supporting: these issue areas have been an output of qualitative research we have done to identify what our consumers are mostly concerned about."
The Gucci Gang is a group of four Parisian It-Girls of the 2000s and founders of Safe Place – a community for young people to express themselves without judgement, break taboos, and offer support to one another.
The joint project will not only raise awareness of domestic violence but also provide real support to young women in France. TOMS will give an impact grant to non-profit En Avant Toute(s) as well as power a Safe Place event to extend support services, facilitate open dialogue, and drive change.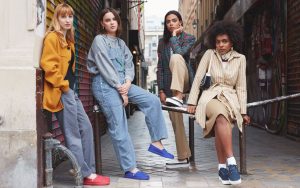 The campaign is brought to life by Amsterdam brand experience agency HarrimanSteel, who have built the 'Stand for Respect' changemaker program together with TOMS. The program is part of a broader global initiative titled 'Stand for Tomorrow'. 
From a creative perspective, HarrimanSteel were tasked with giving the changemakers a clear voice – and ensuring their messages resonate locally. The look is raw, authentic, and real, with a focus on the essence of the changemakers and their mission.
Julian Harriman-Dickson, ECD HarrimanSteel says: "We wanted to make a campaign with universal relevance – but that speaks to the local community. To bring across the energy and personality of the changemakers, we chose to craft a direction that landed the changemakers in their cities, in a way that felt authentic and human as opposed to polished and cold. The educational videos are provocative and confronting, and they're calling on people to stand up for change. It was important that their personal commitment to these issues shone through. Because it's all about their journey – in their shoes."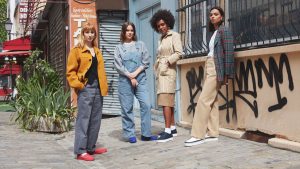 HarrimanSteel have partnered with TOMS' 'Stand for Tomorrow' campaign across the last three seasons, now shooting six different changemakers across Europe and Africa. This campaign is more pointed in its message; featuring sharp educational videos that underscore the severity of this issue.
Speaking of the partnership Lisa says: "We have great partners in our changemakers to help us tell the story and I feel our partnership with HarrimanSteel has been seamless in terms of their team's understanding of the sensitivities and nuances of our stories and at the same time, helping us to be relevant within the fashion lifestyle space."
The Gucci Gang partnership is the first in a series of spotlights on changemakers across EMEA. The campaign will be rolled out across digital and social channels. 
Source: HarrimanSteel