Trust-related concerns are leading considerations for martech buyers
Cost takes seventh place after a host of issues relating to reassurance
Short form content – social media, email marketing and video content – are best for building awareness
But martech firms must use content that prove trustworthiness to achieve shortlisting and build sales: webinars, case studies and analyst reports
Concerns relating to trust are the leading considerations for martech buyers, according to a new report from Carta Communications.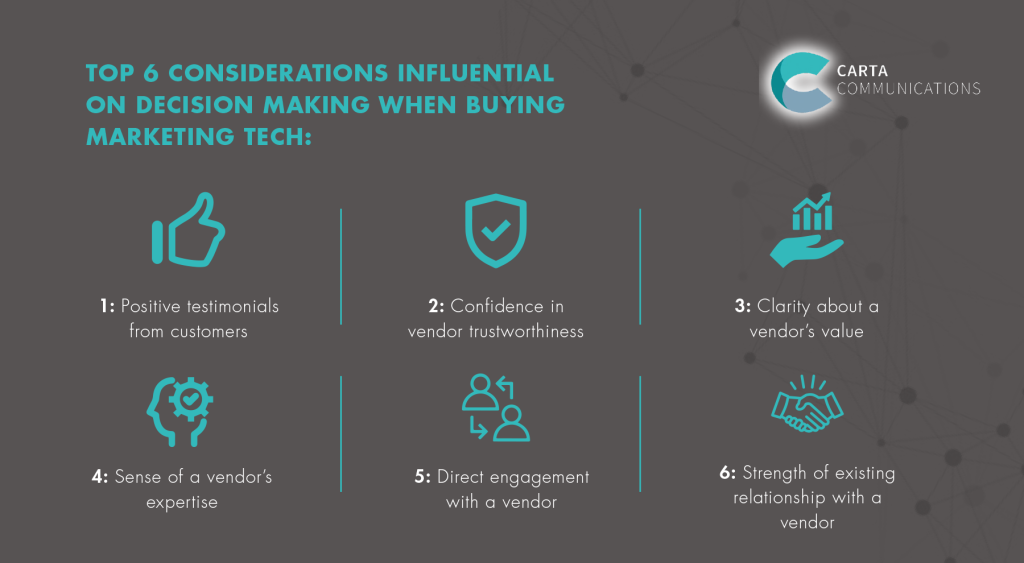 Service providers need to build their marcomms activities around enhancing trustworthiness, if they are to capitalise on renewed budget growth and urgency for martech acquisition.
The new report, entitled Drivers of Martech Selection: Lessons for Vendor Marketing, reveals that the top two considerations on the minds of buyers relate to trust, with positive testimonials from former and existing customers in first place (39 percent), followed by confidence in vendor trustworthiness (38 percent).
But despite trust being a major concern, over half (55 percent) have reported that they significantly increased their marketing technology budgets as a result of Covid-19. Nearly half (49 percent) have also reported a significant acceleration in the time spent selecting a vendor.
The report reveals a raft of important considerations that follow trust: the clarity with which a service provider gets across how they deliver actual value; the level of expertise of the service provider's people; the amount of direct engagement experienced with a service provider; and the strength of existing relationships with a vendor (all 36 percent).
The cost of a service provider's solutions follows all of these, in seventh place (35 percent).
The importance of trust is evidenced in the types of content preferred by buyers seeking information about martech solutions. When gaining awareness about a tech platform, buyers prefer short forms of content – social media (45 percent), email marketing (42 percent), and video content (42 percent). But at shortlisting and beyond, people are keen to go deeper with trust-engendering longform content – webinars (42 percent), case studies (35 percent), and analyst reports (35 percent).
Indeed, nearly two thirds (72 percent) have stated that over the last year they've increased their reliance on analysts and other trusted third parties to help them identify and shortlist vendors.
The influence of the technology media remains important for building trust. While it comes fourth when it comes to achieving awareness, its influence grows to top three status during shortlisting, and rises to number one (35 percent) when people are ready to lay down cold hard cash.
Indeed, 65 percent read the trade media frequently, if not daily, and state it is an important aide in making tech purchasing decisions.
While social media ranks high for building awareness, buyers are not yet convinced that it is an influence on buying behaviour. 46 percent said that it is too early to claim it has influenced buying behaviour.
Matt Cartmell, Founder and Director, Carta Communications, said: "Trust is the number one concern for buyers, which means that trustworthiness needs to be proven right through the marketing process if vendors are to achieve accelerated growth. For instance, it's important to provide social proof in the shape of former and existing customers.
"But providers also need to have a well-defined WHY – in other words, they need to have a clear and meaningful outline of the value that they can provide to their target market. They need to be showing and proving the expertise in their business, while engaging with their target market in a non-salesy way, and drawing on their existing relationships."
Drivers of Martech Selection: Lessons for Vendor Marketing presents a new methodology that Carta Communications has developed to encapsulate the learnings in the report. The Carta Hexagon's six vertices – WHY and HOW; visibility, expert status; connectivity; trustworthiness; and excitement – scope out the areas to build on, that will create enough belief in a target market to enable companies to achieve rapid growth.
Carta Communications is offering a workshop based on the Carta Hexagon, to help technology firms to focus on the areas that will help them to achieve rapid growth.
Download Drivers of Martech Selection: Lessons for Vendor Marketing here.
Source: Carta Comms