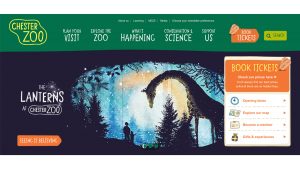 Ultimate Creative Communications are thrilled to announce that they have been appointed by Chester Zoo to transform their website. The project will see the Zoo's multiple brands consolidated into one engaging website that truly reflects Chester Zoo's position on the world stage. With everyone looking to them for leadership and inspiration, Chester Zoo needs to stand out.
The Cheshire digital and creative agency won the project following a competitive four-way pitch.
Chester Zoo is England's most visited tourist attraction outside London with 1.86 million visitors in 2017 alone. Alongside the likes of San Diego Zoo and Singapore Zoo, it is also playing a vital leading role in preventing extinction worldwide. Everyone from expert biologists to young children to employees are looking at the Chester Zoo website for their own specific reasons, whether that's research or play. Until now, their differing interests have been served by a number of microsites but Ultimate are set to bring them all together under one roof.
Ultimate have worked with Chester Zoo since 2015. Their 'Play! At Chester Zoo' creative campaign was highly commended as 'Best B2C Project' at the Big Chip Awards 2018, and the agency has more recently been shortlisted for 'Best B2C Campaign' at the Northern Marketing Awards for their 2017 'Lanterns at Chester Zoo' creative campaign.
Ultimate's founder and CEO, Matt Townsend stated: "Everyone at Ultimate are over the moon to have been selected by Chester Zoo to revitalise their website. The work that Chester Zoo do is truly inspiring, and the website needs to reflect and showcase that. This will be a website that people will to return to time and time again."
Source: Ultimate Creative Communications