VARTA Consumer Batteries is launching a £1 million Christmas campaign, an investment that will see the challenger brand reach a UK audience of 22 million this festive season.
The campaign, led by a TV advert, which will air for the first time on November 22, represents a significant investment by the brand to support battery sales during a peak purchasing period. The multi-channel TV campaign includes a high profile spot during ITV's flagship winter programme 'I'm a Celebrity… Get Me Out of Here!'.
Investment in the advert is a bold move by VARTA to join the list of leading brands competing for consumer attention this Christmas. To resonate with festive audiences, VARTA has created an advert that demonstrates how its batteries have been behind some of the most memorable Christmas moments in a young boy's life, while reminding us of our own.
The 'Max and the Train' advert shows how German-made VARTA batteries have been making Christmas extra special across the decades. Following the young protagonist, Max, and his favourite VARTA-powered toy train, we see how VARTA batteries have been the hidden heroes behind many of our favourite Christmas moments – from the 1980s to the present day. It's a nostalgic and sentimental theme that is sure to pull on viewers' heart strings as we enter the festive period.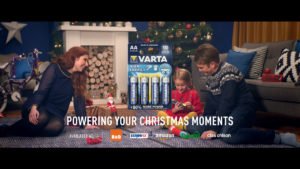 Natalie Carney, VARTA Trade Marketing Manager, UK & Ireland, commented: "The significant investment we have put into this campaign reiterates our commitment to the UK market. The Christmas period is a competitive time for advertising but, as a challenger brand, we've not been afraid to tell our story and come up with a creative that will really resonate with consumers. The advert is designed to raise awareness of the brand in this key trading period, highlight our current stockists and act as a handy reminder to shoppers to stock up on batteries so they can continue to power their own Christmas moments."
The campaign will appear across Channel 4, ITV and Sky, generating an estimated 22 million impacts. The advert was created by Refinery and directed by Richard Oliver from The Gate Films.
Nick Burton, Creative Director at Refinery, added: "With Max and the Train, we've created a story that goes against category convention. We've done this by showing the emotional side of the product, demonstrating that, over the years, this is a brand that's helped provide a great number of lovely family moments. Moments we hope will resonate with viewers."
The TV advert was planned and bought by Vizeum Manchester.
Business director at Vizeum Manchester, Lee-Anne Salisbury, said: "TV provides VARTA with the perfect platform to build brand fame and engage with families at scale, with competitor activity traditionally strong around Christmas, it is essential that we communicate VARTA's strong brand values by deploying a highly visible campaign with a message that resonates."
VARTA stockists include B&Q, Dunelm, Amazon, Clas Ohlson and Screwfix.
Source: VARTA Consumer Batteries