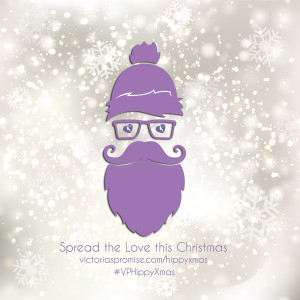 Women's cancer charity Victoria's Promise (VP) has launched a festive social media campaign which taps into the 'selfie' phenomenon. Using the hashtag #VPHippyXmas, the charity will ask people to create a Purple Hippy Santa Selfie, using a bespoke Santa Hippy Santa creator. Participants are then encouraged to share their photo on their social channels.
The initiative aims to raise awareness around the mental and physical struggles young women face when diagnosed with Cancer. It sets out to empower people to show their support by sharing their purple #VPHippyXmas Santa Selfie on Instagram or Facebook. The purple theme compliments the colour of Victoria's Promise's brand identity and conveys connotations of divinity, peace and magic.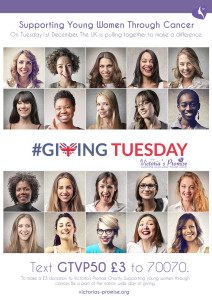 To encourage people to take part and 'spread the love' there will be a prize give away for the most creative a Purple Santa Selfie. The winner will be selected on 22nd December by prolific instagrammer and beauty blogger Laura Jenkinson – an ambassador of Victoria's Promise. Gifts include products from prestigious brands including Aspinal of London, TopShop, NARS and Anastasia Beverly Hills.
Co- Founder and trustee of Victoria's Promise, Alex Eastman, started the charity after his Sister Victoria, aged 29 tragically passed away from cancer. He commented on the significance of this campaign: "While we were in the hospital, we learnt of the struggles that young women face during cancer and we knew we had to make a difference and provide some much needed care. One of the strong memories I have is just how inspired and moved Victoria was by the wealth of support she received while she was unwell, just seeing that people cared was a massive help. We wanted to do a festive campaign that would try and help all women that are facing cancer feel this support and show a united front to keep their spirits high."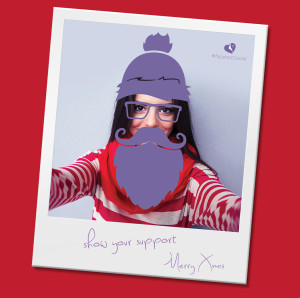 Jenkinson added: " This is a fun, and festive way of showing your support and spreading some Christmas cheer, it gives people a chance to be creative and shows a united front. Hopefully it will raise a large level of awareness, funds and many smiles along the way."
"Having lost my father and Sister to cancer within a year, I know just how difficult the disease can be. I also know that we do not have to be helpless victims. What we are doing with Victoria's Promise can be a lifesaving difference to young women. It is our ambition to be working with every NHS hospital in the U.K within 10 years. A goal I know we will achieve, we just need support" Eastman concluded
The charity also has a text donation campaign text VPHX28 £3 to 70070 to support Victoria's Promise.