Octopus Energy's widely reported £3bn deal will catapult the energy business from a start-up into one of Europe's biggest renewable energy investors and fastest growing energy suppliers. Octopus is now targeting 50 million customers in the UK by 2027 and has plans to increase its new renewables division to generate as much clean electricity as it sells.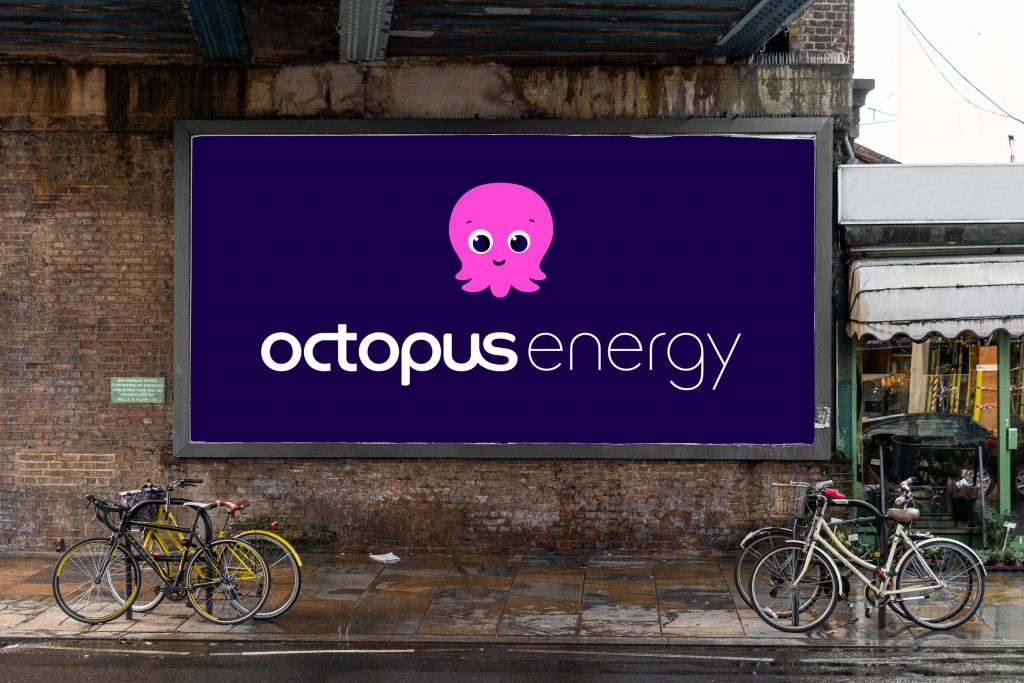 This kind of trajectory means that it will soon lose its start-up badge. How will this affect the brand?
In the UK, 41% of households switched their energy provider in 2020. People generally shop between the Big Six, led by British Gas, EDF and E-on and currently excluding Octopus Energy. The trigger to switch is more often than not price, with decisions being made easy by the plethora of price comparisons sites. This price war is hard to keep up with for any business. Start-ups attempting to take part in such a war and who solely focus on a price message will inevitably erode their brand's value over time. For example, AirBnB, who instead of focussing on cheap rooms focussed on local experiences overcame the problem of brand erosion.
Messaging is not the only consideration; many people will think that now is the time for Octopus to rebrand. Many modern start-ups, from Twitter to Deliveroo, reinvent after extra funding is secured. Perhaps they feel that a more 'grown-up' brand is required to appeal to a wider audience. This however does not have to be the way. Ryanair has hardly changed, and its brand experience is as unslick as when it started. From its advertising to the on-board experience, the brand's non-design is considered and there to reassure passengers that they are not paying for any unnecessary fluff they would be paying for with the big, shiny airlines.
With growth comes change. The temptation to evolve everything is sometimes a hard one to resist, from what brands say, to the way they look. But change can be destructive.
Firstly, even if price was the initial reason for the switch to Octopus, the brand needs to remind its customers that they've made the right choice beyond a cheap deal. Customers need to constantly recognise Octopus as one of the flagbearers in the fight against climate change. They need to be repeatedly delighted by meaningful promotions and see how the business uses its influence in other areas through brand partnerships. Octopus should leverage its current feel-good factor and build salience. Only then will it be able to change its customers from bargain-hunters to fans that show loyalty beyond reason.
Secondly, Octopus Energy would be making a mistake to shed its current identity. Many people who have come in contact with Octopus Energy often site how much they love the way the brand interacts with them – from Constantine, their loveable octopus mascot, to personalised waiting music (which is based on what was No.1 in the charts when you were 14). Having said that the brand can come across as a little one dimensional. It sings one purple note, which isn't always in tune and its visual assets don't seem to work well in the digital space. Nonetheless, there is a lot there for Octopus' marketing department to maximise. Could the octopus mascot come more to life – meerkats spring to mind?
Octopus Energy should be wary of not losing its sense of self. Its brand has quirks that are based on social values and its wish to do things differently. This does not mean Octopus should keep things as they are. The business needs to galvanise what it has and say it better and louder.
From musicians to politicians, everyone can fall victim to their own success. Similarly, thriving challenger brands can grow into exactly the thing they were originally rebelling against. Octopus Energy is an exciting player to watch in a hugely important sector. Let's hope they can continue to use their business growth for good.