Australian director Steve Rogers has recently shot two new TV spots for Old Spice via Wieden + Kennedy Portland.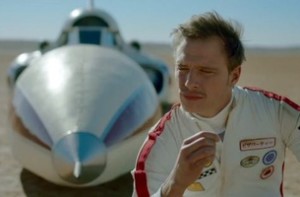 The spots were co-produced by Revolver and Biscuit Filmworks in LA and see a revamped Old Spice man push himself to beyond the limits of possibility.
There's no sign of muscle-bound Terry Crews or smooth Isaiah Mustafa here. Instead a steely-eyed, borderline psychopathic European combines the drive of Michael Schumacher with notes of Christopher Waltz takes the lead in the comedic campaign for Old Spice 'Odor Blocker'.
In the first ad, his attempt to break the land speed record pushes the rocket car to the point of exploding. The second spot sees him practice his tennis moves on the back of a blue whale, using its blowhole as a ball launcher.