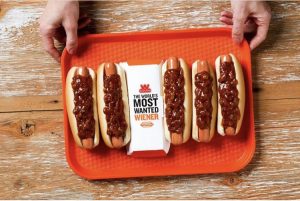 Wienerschnitzel, the world's largest hot dog chain, announced today that the company has selected INNOCEAN USA as its Agency of Record to handle strategic, creative and media (planning and buying) responsibilities. INNOCEAN has been charged with the mission to change the perception of the hot dog, allowing Americans to learn the truth about the food they love.
"After meeting with several agencies in Southern California, we realized that the only one with the proven track record to truly make a difference was INNOCEAN," stated Doug Koegeboehn, Wienerschnitzel's Chief Marketing Officer. "With their outstanding work in the automotive industry, they have proven that they can change consumer perception, and that is our goal with hot dogs. INNOCEAN has all of the resources we were looking for to quickly and creatively achieve our brand goals, and we're excited to roll this plan out for all to see."
A dedicated general accounts team will manage the Wienerschnitzel business for INNOCEAN. With 15 years working on restaurant business, veteran Michael Dischinger will lead the brand management and co-op business, while Courtney Betley continues as Creative Director on the account.
"We are excited about the new energy and ideas already coming from INNOCEAN and trust that the impact of the upcoming creative will be felt throughout the next decade and beyond," states J.R. Galardi, President and Chief Operating Officer of Galardi Group, the corporate parent of Wienerschnitzel.
Steve Jun, CEO of INNOCEAN USA, remarks, "Our priority as an agency is to provide strategic insights to retail and performance businesses that will help them with their planned growth." He continues, "One of the keys to winning this new business was our understanding of the needs of franchise and retail owners. Our regional offices engage with automotive dealers and there are similarities with the retail groups of Wienerschnitzel. Already, we've received great feedback from some of the Wienerschnitzel owners we've met and look forward to engaging successful strategies with them."
80% of all Americans say they love hot dogs, with 75% saying hot dogs bring "happy memories." But 50% of Americans say they "feel judged" when eating a hot dog. Through a wide-ranging campaign, INNOCEAN is set to lay the foundational groundwork to ease every hot dog lover's pain.
INNOCEAN has already begun preliminary work with the brand with media buys this fall and supported the 24th annual Wienerschnitzel Wiener Nationals races this summer.
"The resources and breadth of strategic thinking INNOCEAN produces has us all ready to take a new look at our strategic approach as we move to change the perception of the hot dog," states Michael Dischinger, Vice President, Group Brand Director. "The campaign launching next spring will have a completely new look and feel, as we focus on the overall brand positioning of Wienerschnitzel, while embracing and modernizing the All-American hero: the hot dog."
Source: INNOCEAN USA