WING, the multi award-winning creative content studio that produces film content for brands including McLaren, Coca-Cola and HUGO BOSS, launches WingMan24, a service that guarantees budgeted creative or bespoke high-quality film and stills within 24 hours of receiving a brief.
WingMan24 responds to the growing demand for well-produced film content produced at speed among brands and marketers, as they look to maintain relevance in the ever-changing world of digital and social media. Recent research shows that 85% of marketers plan to increase investment in video in 2018, up from 75% in 2017, and currently over half of marketers are creating a new film at least once a week, with over a quarter saying they create film daily.
WingMan24 provides an established team of creatives, directors, producers and camera crew, alongside in-house production capabilities, meaning they have the expertise and equipment required to guarantee high-quality, affordable film content and production within the 24 hours.
Early adopters of the service include world famous British automotive manufacturer, McLaren – having produced the last four car launch films within 24 hours using WING's agile services – and global drinks brand Coca-Cola.
In response to the launch of WingMan24, John Allert, Chief Marketing Officer of McLaren Group Limited said: "In the warp-speed world of Formula 1, we never have the luxury of time…but nor can we ever compromise on quality. WING understand this pressure well, in fact so well that they've shaped their business accordingly. It used to be that you could only choose two of 'good, cheap or fast'. No longer, it seems…"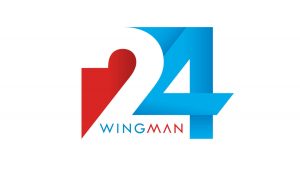 James Williams, Vice President, Olympic Assets at Coca-Cola said: "The world is changing at a crazy pace, and with it consumers require brands to be more relevant and connected in their lives. This means we have to move with agility, and with our finger on the button whilst delivering impactful, relevant creative. No more so than at the Olympics and on the Olympic Torch Relay, when we have limited windows to capture, create and release film in real time – something we've been doing with WING at both the London and Rio Olympics with first class results, and will look to do in the future."
"In today's digital age brands are under increasing pressure to produce film at the same pace as they'd send out a tweet or type up an email. Those that can deliver high quality films quickly – whether that's an ad announcing a new product or a creative branded video reacting to the news agenda – will stand out from the crowd. WingMan24 is hyper-agile and ahead of the curve, there is no other business on the market that can offer the high production DNA of an established creative studio like WING, whilst guaranteeing delivery in a day," said Will Ingham, Founder and Creative Director of WING.
"It's a challenge, but it's something WING has always been expert at and is an inherent part of our culture – producing content as Host Broadcaster for RIO2016 and for the Presenting Partners Coca-Cola, Nissan and Bradesco, our team created over 500 films in 95 days on the 20,000km Olympic Torch Relay in Brazil and so it's something we're geared up to produce for our clients when required to give them the edge against competitors, even at Olympic level."
WingMan24 joins WING and WINGiT to become part of the WING Collective, offering a suite of creative services including creative, film and photography, and strategic distribution solutions for brands.
To accommodate for the expansion and to underpin the hyper-agile approach to content production, WING has opened a new office opposite its headquarters in North London. This will house the production team, its full-service equipment and production vehicles, and its online, grade, and VFX post-production services.
Source: WING