Bigger. Badder. Birdier. This summer, one of the biggest mobile gaming hits to date is set to return to mobile and tablet screens around the world, putting the smug pigs and their feisty feathered enemies back in players' hands when Angry Birds 2 launches on 30th July.
To help promote the game's release and recruit players, Angry Birds creators Rovio drafted in London-based creative agency Wieden+Kennedy, to create a multi-channel launch campaign.
A big, fun, over-the-top live action film, directed by François Rousselet through Riff Raff, will launch the campaign with a bang online on 30th July.
Set on Piggy Island, the film transports viewers to a luxurious and delightfully surreal paradise, where happy pigs frolic in the sunshine and swim in crystal clear waters. But Piggy Island is soon revealed to be the setting of an attack by a furious squad of Angry Birds, who have been plotting to take their revenge on their arch enemy, the sneaky, flightless egg-thieving creatures who share the island with them. The film imagines a real-world adaptation of the game's narrative, weaving fantastic imagery into the familiar world of Angry Birds.
The film was shot in the lush real-life surroundings of Pig Island, also known as the "Home of the Swimming Pigs" or Big Major Cay, in the Bahamas, known for its unique inhabitants: a group of swimming wild pigs. An epic, cinematic look was lent to the film by cinematographer Martin Ruhe, known for his work on feature films such as 'The American' and 'Harry Brown', while post-production was completed by the visual wizards at The Mill.
Ahead of the launch, co-ordinated activity across social media helped to build anticipation, rallying fans to join the fun and take revenge on the smug, thieving pigs of Piggy Island.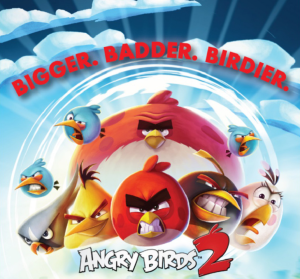 On Instagram, a "smug pigs of Instagram" account (a play on the famously gauche 'Rich Kids of Instagram' account) gives fans a taste of what life is like for the lucky pigs living the good life on Piggy Island. Activity on Angry Birds' social channels features posters in the visual style of propaganda with a playful Angry Birds twist, counting down to the launch and helping to recruit players, as well as a bespoke poster commissioned by prominent online artist Paul Shipper.
Post-launch there will be supporting social content to help sustain interest in the campaign including Birds vs. Pigs Spotify playlists, re-skinning of the Angry Birds Tumblr, 'Wanted Pigs' posters and 'Got Eggs?' social posts.
Iain Tait, ECD at Wieden+Kennedy London, commented: "It's not every day you get to work with one of the world's most iconic entertainment brands. And are asked to do something totally bonkers to launch an amazing sequel. To say that we loved working on this launch would be a massive understatement."
Jussi Mäkinen, VP of Marketing at Rovio, commented: "Getting our fans to experience Piggy Island like never before is what the sequel to the first mobile blockbuster game is all about and what drove the creative vision for our launch campaign."