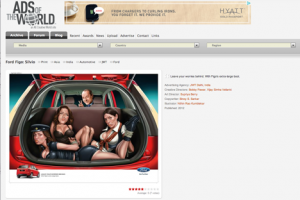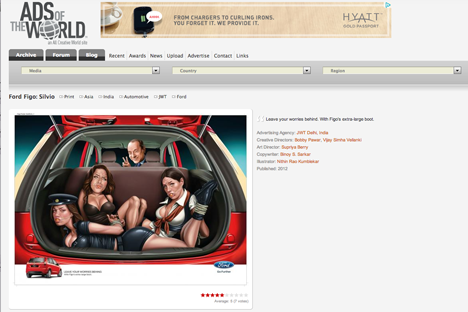 WPP and client Ford have apologized for a series of controversial online ads that were created and posted by a JWT India staffer. JWT is one of WPP's global agency networks.
The ads, which were not authorized, were posted Friday and taken down after the client and agency became aware of them.
One of the ads featured a caricature portrayal of former Italian Prime Minister Silvio Berlusconi driving a Ford Figo with three young women bound and gagged in the trunk of the car.
The tagline read, "Leave Your Worries Behind With Figo's Extra Large Boot." In India, the trunk of a car is referred to as its boot.
The ad evoked a sex scandal involving the Italian politician/media magnate and his reported dalliances with extremely young and possibly underaged women.
The ad — and two others that featured bound and gagged women in the trunks of Ford cars — hit a nerve in India, a country still reeling from the gang rape and murder of a young woman on a bus a few months back.
The episode sparked a national debate about the chauvinistic attitude toward the abuse of women in the country, which has often gone unpunished.
"We deeply regret the publishing of posters that were distasteful and contrary to the standards of professionalism and decency within WPP Group," the holding company stated in its apology Monday.
The company said the ads were "never intended for paid publication and should never have been created, let alone uploaded to the internet. This was the result of individuals acting without proper oversight and appropriate actions have been taken within the agency where they work to deal with the situation."
The ads were not part of a paid campaign. They were posted on the Web site adsoftheworld.com, which showcases a variety of ads in different media.
In its apology Monday, Ford stated that the ads were "contrary to the standards of professionalism and decency within Ford."
Another ad in the series featured Paris Hilton in the driver's seat of a Ford, with the Kardashian sisters bound and gagged in the trunk.
A third ad portrayed race car driver Michael Schumacher driving a Ford with competitors in the trunk, also bound and gagged.
The creative team behind the campaign has since been fired by JWT India. In a statement, JWT said:
"After a thorough internal review, we have taken appropriate disciplinary action with those involved, which included the exit of employees at JWT. These were necessary steps owing to the direct accountability of the concerned individuals, as we work to ensure that both the right oversight and processes are strictly enforced so that this never happens again."