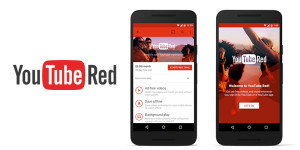 YouTube has confirmed long-rumoured plans for an ad-free subscription version of the online video streaming service, with users able to pay $9.99 (£6.45) a month starting from 28 October to access a service that combines an ad-free YouTube with its Play Music on-demand service.
The service will be YouTube's first attempt at creating a premium, ad-free tier, and will be initially rolled out in the US, with an international deployment following in 2016. As well as removing ads, the service will offer users features like offline mobile access to videos and music, with instant playlisting for music based on preferences.
The announcement wasn't without a couple of controversies. The first that was, due to Apple's $3-a-month surcharge for App Store subscriptions, iOS users will be charged $12.99 a month. YouTube has elected not to absorb this fee into its own charge, and while there has been early chatter about a workaround, similar to Spotify, Apple will likely be keen to receive its share of the subscriptions.
The other sticking point for some of YouTube's most high-profile users is that any top video creators who have partner deals with YouTube where they earn a cut of ad revenue for their videos will be forced to sign up for Red. Any creators who don't sign up to be part of Red will have their videos marked as private for both Red and regular viewers, effectively cutting them off from their viewers.
YouTube has said the reason behind this is to offer consistency, and ensure that potential subscribers are assured that their favourite content will be available as part of the ad-free service. However, many YouTube creators have already registered their displeasure are being forced to sign up for the service.
"The free, ad-supported version of YouTube we all know and love isn't going anywhere," said Matt Leske, senior product manager at YouTube. "But with YouTube Red, you'll be able to support the people who make your favourite videos while watching what you want, when you want, on any device you want, uninterrupted."