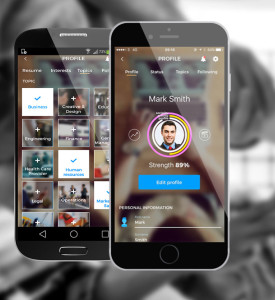 10 Minutes With, the global career matchmaking platform, has launched a mobile app for iPhone and Android to help undergraduate, masters and MBA students search for their ideal job and connect with companies they want to work with.
Available for free on iPhone and Android, the app encourages users to create a career profile, select topics of interest and even create a one-minute with video resume to attract potential employers looking to recruit talented graduates. The platform also enables businesses and recruiters to make contact with the best possible candidates in order to fill their available positions.
Key features – the app encourages users to:
Discover thousands of jobs on site – create a profile and tailor their preferences to help companies and recruiters find them, plus access over 300,000 jobs from a range of sources, but filtered for graduates.
Access content to match their job search – receive tailored editorial, news and tips to keep up to speed with what's going on in their industry through hundreds of content sources.
Highly targeted job matchmaking – 10 Minutes With match-make jobs to candidates based on their location, browsing history, profile and skill set.
Receive job alerts and notifications – registered users receive real-time alerts every time a job match is made, and when a company or recruiter 'unlocks' a users profile.
Create a 1 Minute with video – to stand out from the crowd and boost user profile discoverability.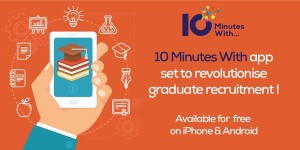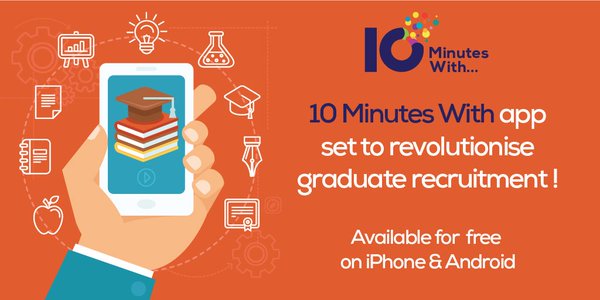 Matt Cockett, CEO 10 Minutes With, commented: "The world of graduate recruitment and the way graduates search for career opportunities is changing. Job seekers have to try a myriad of services in the hope that they get noticed and it has been heavily desktop orientated. Whilst there are many graduates out there looking for jobs – the Association of Graduate recruiters recently reported that 45% of UK businesses struggle to fill their graduate roles each year – our app aims to address these issues by making it possible to match candidates with specific skills to jobs that are right for them."
"Our aim is to enable our users to complete a simple profile via our app and then we do the hard work by matching them with jobs from top employers. Similarly, they will be alerted via the app if an employer wants to get in touch."
Matt Cockett added: "This is a very exciting time for 10 Minutes With. To enable us to grow our user base since launch in 2013 we have established partnerships with over 200 of the worlds most prestigious Business Schools and Universities and built trusted relationships with leading global brands. We firmly believe our app will become the ideal career companion for graduates looking to build their career as the app aggregates 100,000's of jobs globally – and for companies looking to recruit we have a growing pool of highly engaged, qualified job seekers. We have an extensive marketing plan in place hence our user base is set to grow rapidly over the coming months."
To encourage businesses to license the platform, 10 Minutes With is offering the opportunity to post unlimited jobs for free – competitors charge up to £500 per job for a two-week listing.