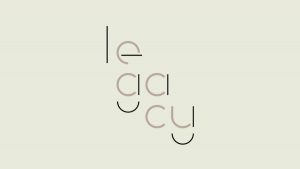 American Hardwood Export Council (AHEC) has commissioned A Practice for Everyday Life (APFEL) to design the identity, typography, publication and digital assets for its new sustainable design project "Legacy" for 2019's London Design Festival (14–22 September).
For the project, Sir John Sorrell, Chairman of London Design Festival, called upon his friends at London's top cultural institutions to collaborate with some of the world's most prolific designers to create a legacy piece in American red oak that will be shown at the Victoria & Albert Museum, London.
APFEL's designs for "Legacy" explore the idea of legacy from different perspectives, playing on the notion of lasting connections, creating a commonality through time, and passing ideas, skills and meaningful objects from one person to another.
APFEL designed bespoke title lettering for the project; each character is made up of two simple forms, a straight line and a curved line, which are then highlighted using two colours, emphasising the design and construction of each letterform. These two elements represent the relationship between the two voices within each of the "Legacy" projects: the commissioner and designer. The wide, rounded, contemporary sans serif typeface chosen for body text, Banana Grotesk, was originally based on an attempt to sketch another typeface, Akzidenz Grotesk, from memory.
The tactility and materiality of the identity design is reflective of the red oak used in the "Legacy" project. Using an uncoated paper or card, which could be debossed, makes a reference to the sensation of wood to touch. The papers used within the publication will be recycled and FSC certified. The digital designs for the "Legacy" project have also been developed to mirror the aesthetic of uncoated paper or card, reflecting a sense of tactility and craft.
"Legacy" has been speared-headed by AHEC's European director, David Venables, in collaboration with Benchmark Furniture whose Berkshire workshop will make all the pieces over the summer.
Source: A Practice for Everyday Life