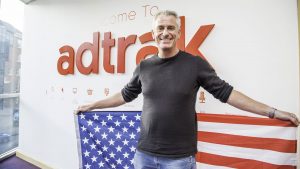 Digital marketing agency, Adtrak has just won its first ever US client. This is the latest great British export, with American firms benefiting from the UK's expertise in the fields of web design and digital marketing.
The five-figure deal follows a recent visit to Texas by Adtrak's Managing Director Chris Robinson. It marks a huge step for the agency, which last year celebrated its 20th anniversary.
Adtrak welcomed two US clients onboard as a result of the trip, Easy Mix and Master Pools. They are both based in Austin, Texas and Adtrak are also talking to other US and international firms keen to utilise the agency's expertise.
As a Google Premier Partner, Adtrak is recognised by Google for the excellent, results-driven service it provides for its clients. In return, Adtrak receives fast and invaluable insight into industry trends, keeping the company at the forefront of digital developments. Shortlisted for prestigious RAR Digital Awards and Digital Entrepreneur awards, the agency's growth shows no sign of slowing in the immediate future.
Chris Robinson, Managing Director at Adtrak, commented: "This is a major milestone for Adtrak and marks the next stage of our evolution. As more customers are going online to hunt for products and services, US businesses are looking at their marketing strategies and recognising the many benefits of incorporating web design and digital communications. Adtrak are the perfect people to help them with this. We have a proven track record of helping our clients to reach and engage with their customers online and our clients enjoy a substantial increase in sales leads as a result of our support."
Adtrak won the business after one of the US companies saw the volume growth in web traffic that Adtrak was already delivering for its UK customers in the same sector.
Chris added: "In the age of digital marketing, there is little difference between supporting a UK or international business. We're confident we can replicate the success we have delivered here for our transatlantic clients."
Adtrak is a leading digital marketing agency based in the heart of Nottingham in the East Midlands, working with clients in all sectors across the UK and internationally.
Source: Adtrak