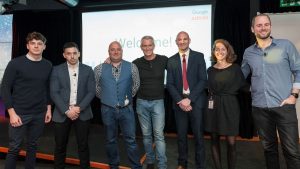 Digital marketing agency Adtrak, joined forces with Google to host and deliver a compelling Digital Marketing Masterclass in London, which underpinned how changing user habits and expectations are shaping the future success for businesses.
With 53 per cent of global web traffic coming from a mobile device, the event, held at Google's St Giles Street office, discussed the increasing importance of implementing a robust digital marketing strategy.
The event was attended by over 100 players from the waste management industry, including RWM exhibitors – the leading recycling, water, energy and waste management event in the UK. Sessions delivered by Google, Adtrak, a Google Premier Partner, and Prysm, owners of the RWM exhibition, covered how to best use digital marketing to promote their brand, generate leads and increase profitability.
Google Account Manager, Camille Deniau, kick-started proceedings by looking at the challenges faced by traditional business models due to fundamental changes in user behaviour and how potential customers now approach searching for products and services.
Xavier Hodgetts, Account Director at Adtrak, reinforced this further, revealing that data experts have predicted the 53 per cent of web traffic which comes via mobile will skyrocket in 2018 to 79 per cent. With such a highly competitive marketplace, it's more important than ever for businesses to invest in website design that functions seamlessly across all devices.
As online habits have evolved, so has user expectation. "People are impatient when it comes to searching online," said Xavier. "Research has shown that if your website takes longer than three seconds to load, 53 per cent of people will abandon it completely. That's a staggering statistic and means that a slow website could mean you're missing out on hundreds of leads."
Wim Wauters, Head of EMEA Partner Enablement at Google, cemented this further by saying that page loading times can make or break a mobile experience.
Adtrak and Google also agreed on the importance of video content in today's digital landscape as a way of expanding reach and amplifying messaging. Findings shared by Adtrak's Xavier show that 90 per cent of people think video actively influences their buying decisions and by placing a video on a website landing page a business can increase conversions by 80 per cent.
Xavier also considered the many ways businesses can increase exposure online, from Google paid advertising to social media and video content. "All of this will form your marketing strategy – including all of the events you attend and everything you do online. It should all work hand in hand to deliver real, measurable success." he concluded.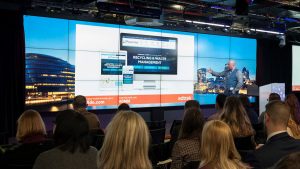 This is the third event of its kind co-hosted and delivered by Nottingham's Adtrak and Google to businesses across a number of sectors including landscaping and food and drink.
Chris Robinson, Managing Director at Adtrak, attended the event and said: "The Digital Marketing Masterclass was a massive success. It's always great to get like-minded people in a room and give them advice that will help their business to grow online. The main takeaway from the event was that it is no longer just advisable for businesses to be implementing a digital strategy, but necessary. As more consumers go online in the hunt for products and services, it is vital to cater to this need and ensure your brand is visible, accessible and engaging."
Prysm, owners of RWM, also shared their plans for the future of the exhibition. Nick Woore, the new Event Director for RWM, and Hassan Allan, its Marketing Director, explained increasing emphasis and expansion of the RWM speaker content and implementing their SMART Exhibiting process, put in place to help exhibitors market their presence more effectively.
Adtrak is a leading digital marketing agency based in the heart of Nottingham in the East Midlands, servicing clients in all sectors across the UK and internationally.
Source: Adtrak