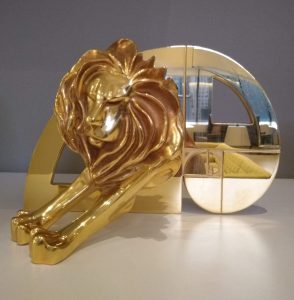 The industry equivalent of The Tony Award, The Purple Heart, and The Nobel Peace Prize stood menacingly before my eyes: The Cannes Lion.
One can only imagine the copious amounts of creative blood, sweat and coffee sacrificed by Xanax-popping account execs and cannabis-inhaling creative directors yearning to lay claim to this rightfully earned booty. Yet, there it was, just inches away from my oversized nose.
Full disclosure: I had never seen The Cannes Lion close up before.
The metallic exterior felt cold to touch and, following a botched attempt to discreetly lift up the miniature statue, proved to be surprisingly heavy.
I had assumed, while on a recent visit to McCann in New York City, that as the allegorical creative country bumpkin, I would feel bottom-rung and tongue-tied; rendered starstruck by finally meeting the bona fide Holy Grail of Advertising.
But there it stood, a sculpted piece of gleaming metal on a lusterless white shelf, alongside multiple lion-esque clones, emblazoned with historical dates and famous campaign titles. And there I stood, meeting its steady gaze without the slightest trace of intimidation.
I was not overwhelmed.
I did not feel inadequate.
I had no pangs of jealousy.
A strange feeling of unexpected indifference and impetuous ambiguity swept over my body.
While the metal effigy – replete with its fabled historical significance and bragworthy personae – was indeed an aesthetically pleasing object, I viewed it with the same mindset that one would view The Liberty Bell or The Chicago Picasso or The Gateway Arch: A hunk of metal with an intriguing tale.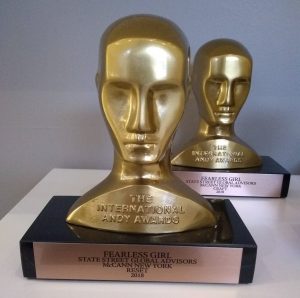 The glowing cluster of Andy, Clio, Effie, Stevie, Telly, and Webby Awards decorating the exposed McCann wallspace simply reinforced this feeling.
Am I being overly shallow and dismissive? Am I negating the herculean efforts of the advertising conglomerates that willingly worship these awards? Am I taking cheap potshots at the people who toil-and-burn-the-midnight-oil annually to win the coveted Cannes Lion?
Honestly – that's not my intention.
I admire the big-thinking-giant-vision executives at McCann who draft creative briefs, hire artistic teams, hold brainstorming sessions, fly cross country to pitch ideas, and work hard to bag the prize trophy.
But I especially admire the creative-little-guy-working-alone who, despite not winning fancy awards or being bathed in pools of accolades, hustles earnestly each day with nary a modest Certificate of Recognition to show for the staggering effort.
Fact: I am far more impressed by the humble three-man-design-shop operating out of a cramped basement that, funded by nothing more than sheer willpower, pulls off a Madison-Avenue-look-alike-style advertising campaign on a keep-it-cheap-shoestring-budget.
Fact: I am far more amazed by the part-time-marketer, part-time-mom, full-time-superhero who, without the benefit of comprehensive focus groups or stacks of analytical reports, manages to craft a brilliant merchandising plan that's right on target and delivers concrete results.
Fact: I am far more captivated by the copywriter-turned-wordsmith that, while moonlighting only-during-off-hours as a website content amalgamator, effortlessly weaves keywords and catchphrases together in a dazzling onomatopoeian arrangement.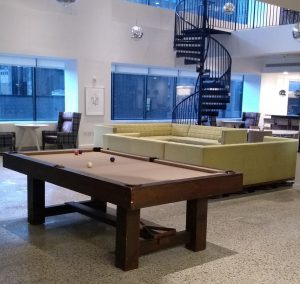 So, while McCann's trendy pool tables and plush leather couches and gourmet coffee bars do make the Little Guy look slightly substandard, that's where the real difference ends.
William Shakespeare summed it up best, long before the first Mad Man planted a polished Oxford on the pebbly Manhattan bedrock, with a presciently pithy quote: "All that glitters is not gold."
Yes, the humble three-man-design-shop probably won't win a Cannes Lion. True, the modest part-time-marketer, part-time-mom, full-time-superhero seemingly won't win a Clio. Granted, the unpretentious copywriter-turned-wordsmith admittedly will not win a Stevie.
But, despite grappling with such imbalanced disadvantages, these often-overlooked creative professionals have undoubtedly won… my genuine respect.
Article by Abraham Bree, Creative Director at C+A Global