AMV BBDO created an immersive virtual reality experience for Thunderhead at the Festival of Marketing on Wednesday 11th and Thursday 12th November at the Tobacco Docks in Wapping.
Building on the creative campaign that introduced 'The Thunderhead' character, the VR experience takes people on a completely unique and magical journey, 'Above the Clouds'. It is a brand experience unlike anything that has been seen before that have left people in awe, and became the must see event at the Festival of Marketing 2015.
Building on the character and myth of 'The Thunderhead', we have now expanded his world using Oculus Rift to transport people on board Thunderhead's ship. It takes them on a metaphorical journey 'Above The Clouds' learning about the benefits of Thunderhead's technology, and demonstrate how this allows marketers to listen, understand, act and learn about individual customers, throughout the entire customer journey.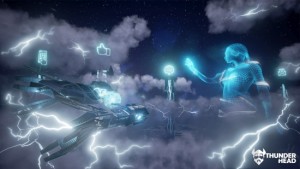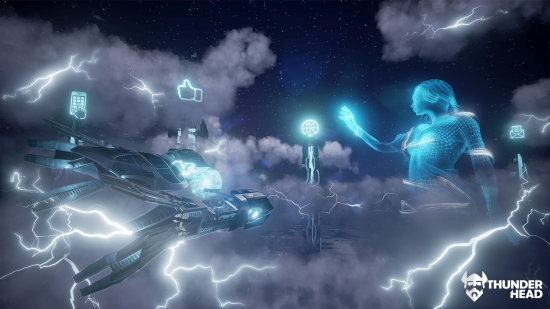 More specifically the experience illustrates that:
Thunderhead listens across different brand owned channels including both online and offline, throughout the entire customer journey in real-time
Thunderhead brings multiple data sources together 'in the moment' for better clarity and understanding of that customer
Thunderhead then delivers the right conversation to provide happier customers
Developed using Unreal Engine, a leading 3D games engine, AMV BBDO and Hammerhead VR, a virtual reality and immersive content studio, created the Thunderhead Virtual Reality Experience which is also available as 360 and 2D video on YouTube. If you follow @ThunderheadONE on Twitter and tweet #AboutTheClouds, they will send you a link to experience the 'Above The Clouds' journey.
Sarah Traill, VP of Brand, Digital, Communications at Thunderhead says "Insight into each customer journey is essential if you truly want to engage with customers. By providing a standout experience at the festival, we not only convey the magnitude of our offering but also capture the imagination of marketers."
Paul Brazier, Chief Creative Officer & Chairman at AMV BBDO says: "It's our first venture into VR and it couldn't have gone better."
The Festival of Marketing is a festival for marketers. There were over 200 speakers this year across 12 stages, plus different content rooms, workshops, individual brand experiences, an award ceremony celebrating the industry's best work, as well as some of the best food and drinks to enjoy! Headline speakers included Alan Sugar, Monica Lewinsky, Chris Hadfield, and Anthony Thompson.