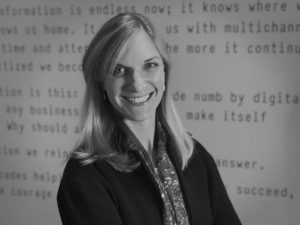 gyro, the world's first full-service, global creative B2B powerhouse, has appointed Angie Fischer as President of gyro Cincinnati.
Fischer brings more than 17 years of marketing and brand engagement experience. She is a Harvard graduate who joins gyro from Curiosity Marketing where she recently received the University of Cincinnati Goering Center's "Rising Leader" honors. At Curiosity, she headed up strategy and relationships for top brands including Procter & Gamble, Perfetti Van Melle and Dean Foods.
Fischer knows gyro at its core. When gyro first formed nine years ago, she helped lead gyro Chicago with USG serving as an anchor account. Today, her journey has come full circle. As President, she joins Executive Creative Director Mike Tittel to lead gyro's strong Cincinnati office, which has won Best Place to Work for each of the past seven years.
Earlier in her career, Fischer had spent nearly seven years at HSR Business to Business. HSR served as the foundation of gyro's creation. As Group Vice President, she oversaw its top accounts including First Data, Motorola, AK Steel and others.
Fischer's marketing career began in Silicon Valley and included stops at Broadbase, E.piphany and Critical Path. In fact, she began working for the first while still enrolled at Harvard University.
Before Curiosity, she was also VP/Director of Brand Engagement at Northlich, where she oversaw the account teams across a broad range of clients including P&G, American Greetings and Ohio State Medical Center.
"We are happy to have one of gyro's original builders return back home," said gyro Global ceo+cco Christoph Becker. "Angie brings the special type of energy and passion that we are known for and that our clients love us for. She knows gyro, what we stand for, and will be a tremendous driver of our powerful UNO culture."
Adryanna Sutherland, gyro U.S. COO, added: "Angie's expertise in high-tech, healthcare, food and manufacturing aligns perfectly with gyro's core practice areas. She brings great experience and drive to our already formidable gyro Cincinnati team."
Fischer said: "gyro has clearly set the tone for what it means to be a leader in the B2B space. Their culture and creative stature, combined with expertise in media and technology, is irresistible. I had to come back for more."
In her spare time, Angie has a passion for food having studied culinary arts at the California Culinary Arts Academy. She is also a devoted mother of two.
Source: gyro