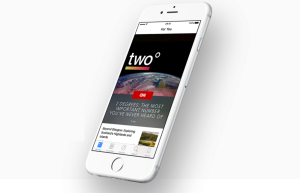 Apple has announced partnerships with 14 leading publishers as its news app launches in the UK.
Apple News brings together content from titles including the BBC, Telegraph, Guardian, Sun and Sky News and present them in a single app that will replace the built-in newsstand app as part of the iOS 9.1 update.
Other major titles in the partnership include the Times, Financial Times, the Economist and Daily Mirror publisher Trinity Mirror. A number of top UK magazine publishers will also have their content included in the app. Vanity Fair publisher Condé Nast and Radio Times publisher Immediate Media will feature, as will Cosmopolitan and Esquire owner Hearst. The Drum's content is also now available on Apple News.
Trinity Mirror is one of the most committed publishers to Apple News with 27 of its national and regional titles on the app including the Mirror, Daily Record, Manchester Evening News and Liverpool Echo.
In a statement announcing the partnership with Apple, Trinity Mirror's product director, Chris Russell, said "the ways consumers access content and news is changing hugely with digital advancements, highlighting the need for traditional media owners to ensure they adapt with consumers."
He added that the inclusion on Apple News "will help us reach new audiences, as well as offering our readers more choice in how they consume content."
An Apple spokesman said that the app aims to "collect all the stories you want to read, from top news sources, based on topics you're most interested in — so you no longer need to move from app to app to stay informed."