The latest film in DHL's Power of Global Trade campaign from 180 Kingsday, tells the remarkable story of Thomann – the world's largest music retailer – and the company's ability to bring music to the world.
Thomann, which is based in Treppendorf Germany, started out with one man selling instruments from his rucksack – and has now grown into a company with 7.5 million customers all around the world. This true story is brought to life by DHL's long-standing agency of record, 180 Kingsday, with a film celebrating DHL's role in helping a small start-up business be able to build and keep up with global demand.
The film is the latest execution in a series of print, digital and film executions for a campaign that has been driving the global logistics company forward over the last 4 years. The Power of Global Trade campaign celebrates the enduring power of global trade to make the world a better place and DHL's role in that. The most recent film reminds us that the way the world does business is constantly evolving; E-commerce is increasingly the battleground for many global businesses and in turn those business successes make a big difference to the world around us.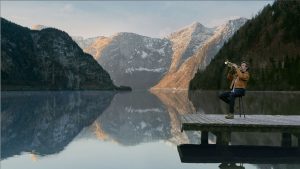 "We're very proud of this creative platform in demonstrating the critical role DHL plays in a global economy. It has helped inspire and connect with DHL's customers in every part of the world and helped give purpose to a global workforce that are part of a truly global business," commented Sander Volten CEO 180 Kingsday.
"It's inspiring and in a way humbling to see how one man with a backpack and a dream has built a business as profitable as Thomann from scratch. It just shows what you can do with a strong vision and a solid logistics partner. We sometimes talk about globalization gone wrong. This is a shining example of globalization gone right. As business models are changing so rapidly today, DHL has an increasingly interesting role in the global economy," said Kalle Hellzen, ECD at 180 Kingsday.
Previous stories in the campaign have celebrated the role DHL plays in the global fashion e-commerce industry and fulfilling time critical deliveries to companies operating in the most remote parts of the world.
The Thomann film will feature as part of a global media buy – including BBC World, CNN and Sky.
As with the other stories in the campaign, there is also a business impact content film, which goes deeper into the Thomann story. Created by 180 Kingsday's in-house production team the film is distributed through media partners CNN.
Source: 180 Kingsday