Bairstow Eves, an estate agency business owned by property services company in the UK, has announced the launch of a social media campaign, 'Styled to Sell', in which it has teamed up with a selection of well known bloggers and vloggers for the first time.
Bairstow Eves is an established name in the residential property market with a 100 year heritage. It started life in North London, Essex and Hertfordshire and now has a network of more than 100 offices across the country, making it the second largest brand within the Countrywide family, after Hamptons International.
The 'Styled to Sell' social media campaign, which launched on Monday 11 September, sees Bairstow Eves team up with five well known blogger and vlogger influencers in the lifestyle and interiors sectors, with an individual social media following between 6,000 and 60,000.
As part of the campaign, the influencers filmed a Bairstow Eves branded short video with their top tips on styling a particular room in the house to showcase the property in its best light. Throughout September and October 2017, the videos will be launched and promoted through Bairstow Eves' Youtube channel and also through its website as well as each of the influencers' own social media channels.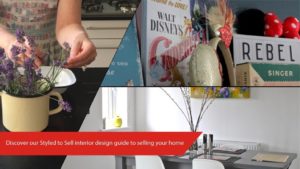 The 'Styled to Sell' social media campaign marks the first time Bairstow Eves has worked with influencers.
Jeremy Briggs, Marketing Director at Countrywide, commented on the launch of the 'Styled to Sell' social media campaign: "We are excited to announce the launch of our first campaign with a group of well known lifestyle and interiors influencers. Creating useful and engaging content for our clients is a core part of our marketing strategy and as we execute our marketing strategy for the remainder of the year and plan for 2018, influencers will play an increasingly important role in reaching our target audiences. Influencer marketing is not a new phenomenon and has been used in various guises in the property industry before. At Countrywide, we intend to use influencer marketing to provide fresh and interesting content to new and existing audiences in order to position Countrywide brands as the first choice for all of our client's property requirements."
The bloggers and vloggers Bairstow Eves worked with for the 'Styled to Sell' campaign are Amelia from xAmeliax, Jane Taylor from Maflingo, Sian Thomas from Rebel Angel, Ali Clifford from Incredibusy and Maxine Brady from We Love Home Blog.
Source: Bairstow Eves