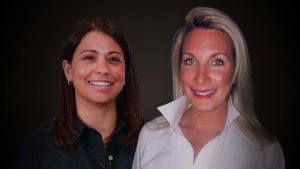 Barefoot Proximity, the Cincinnati office within the Proximity network, has announced two senior appointments to support its business transformation within North America.
Margarita Fitzpatrick joins as Vice President, Client Partnership and Liz Martin joins as Senior Vice President, Global Digital Client Services lead. Both will start immediately and will report directly into Barefoot Proximity CEO, Chris Evans.
As Vice President of Client Partnership, Fitzpatrick will be responsible for the leadership of Barefoot Proximity's client management function and talent. She will work across the full roster of clients including P&G, Bayer, Gallup and Cincinnati Children's Hospital, and will focus on delivering impactful customer experiences driven by data and led by customer insights.
Fitzpatrick has 25 years of experience developing successful client relationships across a broad range of industries including Health Care, Automotive, Telecom, Packaged Goods, Grocery Retail and QSR. She led the launch of personalized communications for British retailer, Tesco, across nine markets in Europe and Asia, launched Panera's personalized loyalty program and most recently led North America's Loyalty, CRM and Personalization consulting team at Dunnhumby.
Fitzpatrick said, "Barefoot Proximity has an exceptional team, long-standing clients and a foundation in data and creativity which position it for success in our fast-changing industry. I'm excited to help them further develop the team and build trusted client relationships that will create stand-out customer experiences and value for clients."
Martin, who joins as Senior Vice President, Global Digital Client Services comes to Proximity directly from AKQA where, as Client Partner, she ran the Verizon Wireless account leading a cross-functional team focused on the overall retail experience and on creating an omni- channel digital ecosystem.
Martin brings over 19 years of experience in client services and has worked at agencies including Grey, G2, BBH and R/GA. She has led the charge on numerous innovative, multi- channel, highly technical advertising campaigns and platforms on global accounts such as BMW/MINI Financial Services, PwC, 3M, BBC.com, Nestle Waters and Goldman Sachs.
Martin, said, "The impressive group of talented people, the work, their expanding capabilities and their roster of clients is what ultimately drove my decision to join such a dynamic agency. There is a tremendous amount of momentum at Barefoot Proximity right now and I feel lucky to be a part of it."
Chris Evans, CEO of Barefoot Proximity, added, "Liz and Margarita have that highly sought- after alchemy of big agency, big client experience and are the perfect fit for our growing agency and offering. I couldn't be more excited for them to join the team."
Source: Barefoot Proximity