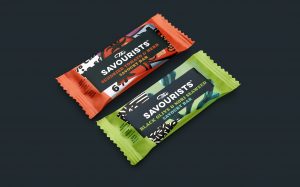 Pioneering savoury snack bar – The Savourists – unveils a bold new visual identity, delivered by branding agency B&B studio. The bars are currently available in two flavours: Sundried Tomato & Herb and Black Olive & Nori Seaweed.
A completely unique product in the UK, The Savourists' snack bars are a protein-rich alternative to the wide array of sugary options currently on the market, elevating everyday snacks from sweet, crunchy treats to a tasty, more rewarding bar that heroes' savoury flavours.
Harry Turpin, Co-Founder, The Savourists, says: "Dominated by sugary quick fixes, the snacking category simply wasn't responding to changes in consumer behaviour. People are eating differently around mealtimes and are actively seeking more fulfilling savoury alternatives, but snack bars have been slow to evolve to this shift. The Savourists bridges this gap with delicious, healthy bars designed for foodie thrill seekers, packed with rich flavours and plant protein for a mouth-watering and multi-dimensional snacking experience. We needed a truly distinctive and contemporary look and feel to reflect our next generation – savoury snacks."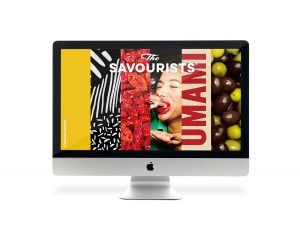 B&B studio focused on the brand's foodie credentials to create a sophisticated visual identity that reinvents the traditional design codes of the snacking industry.
The multi-dimensional, unique taste and textures found in The Savourists have been brought to life graphically through layered, patterned imagery and colour that reflects the diversity of the brands elevated snacking experience.
The patterned design, illustrated in-house by B&B, contrasts with the often simple and naïve aesthetics of many mainstream snacking brands. Further illustrations and a heavily textured print continue beyond the pack into the wider brand world to create a graphic celebration of 'savoury'.
Shaun Bowen, Creative Partner at B&B studio, says: "Traditionally, snacking brands appeal to the child in us with bright, bold colours and a one-dimensional, cartoonish look and feel that taps into feelings of nostalgia and indulgence. The Savourists challenges these category conventions. The brand sits at the convergence of real food and snack food, recognising changes in eating behaviours and delivering a snack made from real ingredients. It's a bar for grown-up palettes and needed an identity that clearly communicated this. The result is a new set of design codes for the snacking industry. Less superficial, more honest to the flavours and textures of the product but still punchy on shelf. Despite being an entirely new product to the UK market, it's immediately recognisable as a savoury snack bar."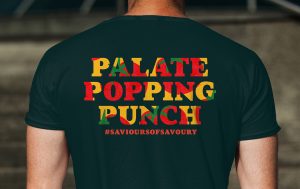 B&B studio delivered the brand positioning, identity design, packaging and brand communications for The Savourists.
The Savourists will be launching at lunch! tradeshow at the Excel London in September 2019, and the range will be available in independent stores across the UK, as well as leading health food shops and online. RRP will be £1.80 for a single bar.
Source: B&B Studio