Traditionally, Iftar is the meal Muslims end their daily Ramadan fast as a family. Today, the tradition sees fewer families breaking the fast together. Looking to help preserve the tradition of families coming together for Iftar, Betty Crocker and VMLY&R created an experience that highlights family connection.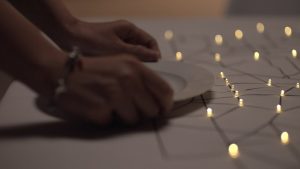 The Iftar of Lights is a unique tablecloth that lights up only when every family member is at the table. The tablecloths feature designs screen-printed with special conductive ink, built-in lights, and a battery powered circuit. The design lights up only when all plates are placed on the table. One missing plate, the circuit remains incomplete.
The tablecloths come in three designs for two, four and six people. They were offered to families in Dubai as part of a special Ramadan Family Pack at Iftar tents set up by Betty Crocker for the month of Ramadan. Families that visited the tent decorated a Betty Crocker cake and then enjoyed it together.
Sajjad Hussain, Marketing Manager (Betty Crocker), General Mills Middle East, said: "In today's fast-paced world everyone is digitally connected but our in-person connections or interactions have reduced to a minimum. If there is happy news or sad news, we don't call or go to meet, we just WhatsApp – as it's easy. Coming from a culture where sitting together for an Iftar was a must, this project was particularly very close to my heart, as sitting together to really connect brings out the true value of family. I am humbled with the response that we've received from the consumers and hope that Betty Crocker continues to carry the beacon to enrich true values of personal connections in the future."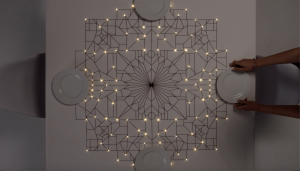 "The origin of the idea came from the fact that how fast paced city life makes everyone too busy and miss out on family Iftars, a meal meant to be shared together with family. Betty Crocker, being a brand with a motto of 'Refresh your connection,' wanted to bring families together. So, we created an experience that lights up their Iftar celebration, only when every family member is at the table. There have been three tents in three different locations since Ramadan began earlier this month," added Kalpesh Patankar, Chief Creative Officer, VMLY&R MENA.
"For example, one evening there was one at Zabeel Park. Iftar tents are very common in the Middle East. They are pop-up buffet tents, sponsored by a brand, institution or government, as a place where people come together to break their fast. Most tents are open to the general public to come and eat together. We created Iftar of Lights, a tent with the surprise of the tablecloth experience. Families that visited the tent decorated a Betty Crocker cake and then enjoyed it together."
Source: VMLY&R