Integrated advertising and marketing agency bigdog, launched a new campaign for iconic household brand Vax's latest product – Vax Platinum Carpet Washer. This is the first piece of work for Vax produced by bigdog to go live, following the agency's appointment as the brand's lead creative agency in November in 2017.
The 'What lies beneath' themed campaign launches with a 90" TV commercial, with Mediacom Leeds handling media buying, and wider campaign elements including a Vax website refresh, DM and press.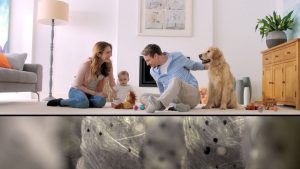 Targeting the type of house-proud audiences who own multiple carpet cleaning devices, bigdog's creative execution centres on the product's power to remove all the nasty bacteria and bugs that live in carpets. The work is being led out of the agency's Leicester office by bigdog's associate director, Harman Randhawa, with creative work by Mark Lees and Mike Kalin, supported by account management from Sarah Healey.
Jon Collings, Marketing Director at Vax, comments: "This is an important launch that we've been working on for a while, so I'm excited to see the campaign go live. Vax have a proud history in carpet washers, so it was crucial to get the messaging and creative right. The spot bigdog has created for us does just that."
Harman Randhawa, Associate Director at bigdog, adds: "New product launches are always interesting to work on from a creative point of view, and Vax is an innovative brand in a rapidly growing market. There will be lots more from them this year, so watch this space."
Source: bigdog